User:Rooomy
Jump to navigation
Jump to search
| | |
| --- | --- |
| ⏲️ | This user's timezone is UTC-4 (EDT). His time is currently 18:20. If you can't find him right now, it's probably midnight his time and/or he's busy with school/work/home crap. Assuming he has a normal sleep schedule (fat chance), he should be active right now. ( ) |
"I have your adress"
~ Roomy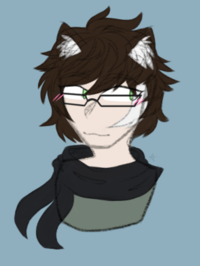 Hiya. Welcome to my super cool userpage. I'm what could be called a rather up and coming writer for this great, parody wiki of ours, and on occasion I pool a bit of my not so free time into writing articles here. Here you can see my accomplishments and the orgy of Userboxes I put here when I was 13. If you have any questions, comments, complaints, requests or want to suck me off, message me on my talk page, or Email me for a more direct way of reaching me[1]
Notable achievements
[
edit
]
Licensed internet funnyman
I have a girlfriend so thats pretty cool I suppose
Aside from my escapades on Uncyclopedia, I like to write in my spare time, trying to be an amateur novelist
Featured Articles: 2
Current events
[
edit
]
As of August the 12th, I'm back and school, and still employed. I have kissed my free time goodbye like a broad from Kansas that was left behind while her husband/boyfriend goes to shoot at nazis for the next 4 years. Also something something, got another FA.
Shit I've made
[
edit
]
Fargarthia- (Finished) first article I have ever made (not including my Userpage.) It definitely shows in hindsight-
Unbooks:The Five Stages of Being Banned from Uncyclopedia- (Finished) babby's first novel
Robbie Rotten- (Finished) First Featured article
Battle of Shiroyama- (Finished, Featured, TOP 3 2021 BAYBEEE) An abridged summary on the last stand of the Samurai
UnReviews:Crusader Kings 3- (Finished, still open for expansion) My first unreview on my most favorite grand strategy game of all time
Wehrmacht- (Under Construction) goddamn Wehraboos
↑

But please do not flood my (very personal) email with pointless and neigh constant spam. Be mature, and be cordial.