Uncyclopedia:Anniversaries/November 21
Jump to navigation
Jump to search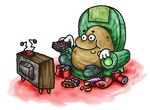 November 21: International Couch Potato Day
1847 - The Great Irish Potato Famine reduces the number of Couch Potatoes in Scotland and Ireland by 25%. Tragically, this results in a global Deep-fried Mars Bar recession.
1877 - Thomas Edison announced his invention of the pornograph.
1963 - Lee Harvey Oswald gets laid for the last time.
1996 - Couch Potato Day is established to encourage nations to collectively sit on their asses watching pointless programs at the same time. Scheduled programs for this day included 100 Ways to Watch Paint Dry, and 20 Things You Didn't Know About Carpet.