UnNews:McDonald's food could be a public health hazard
Jump to navigation
Jump to search
27 June 2012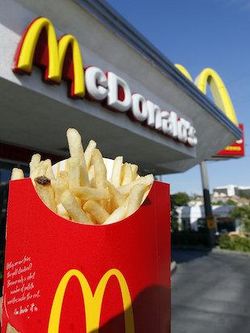 LOWELL, MA – Massachusetts authorities have confirmed many McDonald's restaurant patrons' suspicions that its so-called food not only constitutes a health hazard, but could, in fact, be fatal. James Hackett, 26, hacked off that his 11-year-old stepdaughter sought to referee during his verbal sparring with the girl's mother, Hackett's wife, threw French fries into the child's face, an act that could have resulted in severe burns and possible disfigurement.
"There should be a law against selling those things," police declared. "They're more caustic than Mace and deadlier than my revolver. Thank God no one was killed by some lost fries in the shootout."
According to the restaurant franchise's spokesman, Ronald McDonald, "The golden-brown fries were both lightly salted and hot and oily, just the way our customers like them."
Police, who have charged Hackett with assault and battery with a dangerous weapon—the McDonald fries—say that the potatoes could have caused third-degree burns, blindness, or gastric upset, including diarrhea." Authorities are also considering child endangerment charges against the girl's mother for allowing her to consume such dangerous products because, Unnews reporter Lotta Lies was told, the preteen had ordered a hamburger, a soft drink, and the potentially fatal fries.
Fortunately, no one was seriously injured in the food fight.
"All I can say," the arresting officer declared, "is that it's a good thing the girl didn't actually eat any of the fries. Then, instead of assault and battery, we would be charging the suspect with manslaughter or even attempted murder."
Reportedly, McDonald's has offered the family a coupon for onion rings or a breakfast burrito as a gesture of good will, but the girl's mother isn't impressed by the offer, she says.
"From now on," she declared, "we are dining out at Booger King--or maybe one of those breastaurants I've heard so much about."