Portal:Science/Pregnancy
Jump to navigation
Jump to search
Welcome to Uncyclopedia's Pregnancy portal.

The home of all sick abortion jokes, retarded mpreg jokes, and creepy pregnancy erotica pregnancy related articles on Uncyclopedia.
edit
Highlighted Pregnancy Article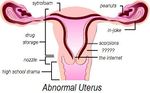 Uterus hotwiring is an experimental new technique developed by top reproductive surgeons to allow women who cannot conceive a chance at giving birth. This revolutionary new procedure is not only very expensive, but also not covered by most insurance policies, therefore putting the procedure out of reach of most people. However, this Crackpot Surgeon's Association (CSA)-approved guide will show you how to hotwire a uterus step-by-step using common household appliances and tools.
Before any surgery, most doctors and surgeons will try to work out how they're going to do the surgery, what instruments they will need, whether or not the patient needs extra care, and what type of coffee they will drink before entering the operating room (and sometimes during the operation). (more...)
edit
Highlighted Pregnancy Image
edit
Pregnancy Sub-Categories