Catrina
Jump to navigation
Jump to search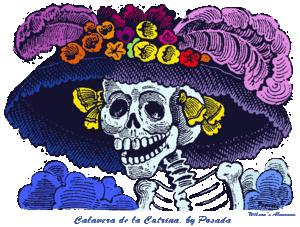 In Mexico, Catrina is the name of Death. No, seriously.
A Mexican voodoo conspiracy to destroy the United States
[
edit
]
You see, La Catrina has been working for us all along, she went undercover and disguised herself as a natural disaster, she went under the false name Katrina (Well, we admit she doesn't have much of an imagination in the first place!) and ran amok.
La Catrina has been always present in Mexican Culture. She was popularised by Mexican Engraver José_Guadalupe_Posada, but her tradition comes from the Aztec Pantheon, especially Mictecacihuatl, the Aztec Lady of Death.
Well, you don't like us and we don't like you, but we don't have any money to buy airplanes and crash them into your cities, we cannot afford suicide bombers and our militia is merely ornamental, our only resource was asking our Goddess of Death to go and smite you.
New Orleans is 90% under water and hundreds are known dead with thousands more feared dead, with additional daily casulties. The city is considered uninhabitable for months, with mass chaos, looting, no utilities, fires, and the fear of rampant disease. Over 1 million people are displaced, and rightfully are pissed off. [1][2] The fate is similar for other states lining the gulf coast, with over 3 quarters of Missississippi without power, and houses flattened, with the hardest part of the storm hitting Gulfport, Mississippi.
Well, the cat is out of the hat, now you los gringos can continue shooting Mexicans trying to cross the border without remorse.
That's what you wanted, right?
Advance "told-ya-so" predictions
[
edit
]
Catrina is indeed the gal that momma has been warning you about for years: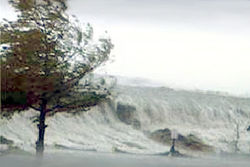 All the pumps to keep New Orleans dry were supposed to run on electricity. What happens to powerlines when a hurricane sweeps the country?
And you wonder why she's nothing but a heartbreaking bitch? Sheesh!
Radio silence
[
edit
]
After Hurricane Katrina hit the coasts of America, the Romanian diaspora in the affected vicinity was forced to stop listening to a famous Romanian song interpreted by the national singer of this country. Sofia Vicoveanca is a famous Romanian singer/fortune teller, and it is believed that she can actually predict disasters and make songs about them before they actually happen. Till now nobody has been able to prove this theory, but the fact that she predicted the disaster made by the Hurricane Katrina with her 20 year old song called Hai Katrina si ne-arata, puts a question mark on a lot of scientists lips.
The Simon and Garfunkel rendition of Bridge over Troubled Waters is also temporarily unavailable in the wake of the I-10 twin-span bridge collapse.
While sad songs say so much, please do remember before asking the band to strike up the Tom Petty tune You don't have to live like a refugee that not all No Orleanians wish to be addressed with this term.
Use of the moniker "Boat People" and the Styx tune "Come sail away" is therefore preferred.
Opportunist SOBs
[
edit
]
No lessons learned
[
edit
]
No Orleans schools, already a disaster, will not be reopened as they were already bankrupt long before Katrina and Rita hit the doomed city. The school buses will therefore remain in their current underwater location. Given the wretched condition of the former city's education system, its permanent closure is no great loss.
There will be many fine schools in post-Katrina No Orleans, but they will be schools of fish.
Displaced public school students will be transferred to the crappiest schools in East Baton Rouge where they will be known as refugees. Baton Rouge students feeling threatened by New Orleans students, suspecting them of stealing and eating their food stamps, have asked that refugees NOT be given school uniforms so they may be picked out of a crowd more easily. Students will beat the living shit out of each other at least once a week. Those who paid sky-high tuition rates for big-name colleges and have ended up in Shreveport and Surrounding Farms College of Pig Farming instead will not be refunded the difference in tuition costs, as a pigpen is on average much cleaner than whatever's left of No Orleans.
Meanwhile, fish in new, top-quality New Atlantis schools will mutate in response to the chemical waste which blankets the former townsite and perhaps gain the new sentinent powers needed to wrest control of the destroyed city from the sharks and barracudas who currently control New Venice.
See Also
[
edit
]
External Links
[
edit
]