UnNews:God denies connection with Colts' owner
Jump to navigation
Jump to search
5 February 2007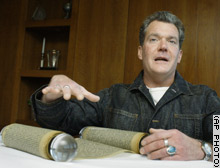 PRIMUM MOBILE -- Almighty God said late Sunday night he had "absolutely no relationship" with Indianapolis Colts' owner Jim Irsay.
"While I hold no ill-will against Mr. Irsay, I don't want any glory he gives to me," God said after watching the Colts defeat the Chicago Bears in Super Bowl XLI. "Why doesn't he give the glory to the poor fans shelling out $120 for a decent seat at the RCA Dome?"
After being presented the Vince Lombardi Trophy at Pro Player Stadium in Miami Sunday, Irsay thanked the Lord for calling an exceptional series of running plays against the Bears' defense.
"We're giving it all to God," Irsay said to the thousands of Colt and God fans in attendance. "Because God is looking out for us on this journey."
"What, your journey to Los Angeles?" God screamed at the television in his wood-paneled den Sunday night. "I know your heart, Jim Irsay, and I know you wouldn't bat an eye moving the team to southern California when the opportunity presents itself. Listen, pal, I'm not paying for the moving vans this time around."
Sources close to the omnipotent said He was "somewhat irritated" by Irsay giving the glory to Him after the Colts defeated the New England Patriots 38-34 in the AFC Championship game on January 22. But God decided to hold His peace, waiting to see what Brian Urlacher could do against the running game.
God has held a grudge against the Irsay family since March 29, 1984, when Irsay's father Robert moved the Colts from Baltimore in the dead of night, breaking the hearts of millions of fans.
"It was My will that Baltimore had the Colts, and Indianapolis the Pacers," God said in statement. "When My servant Robert broke My solemn covenant with Monument City, My day-to-day involvement with the Colts' organization effectively ended."
Despite his insistence on God's guidance of the Colts' affairs, theologians have noted that Irsay did not give God the glory for the Colts' defeat in the 2003 and 2004 AFC Championship games, or in 2006, when Mike Vanderjagt missed a 46-yard field goal attempt in a playoff game against the Pittsburgh Steelers.
"Irsay only expresses his gratitude to the divine when something good happens," said Dr. Bert Jones of Union Theological Seminary in New York. "Most Americans, particularly wealthy ones, believe their money proves they enjoy God's favor, and pre-empts the need to reach out to their fellow man. But they hold fast to the Bible, and believe their successes -- whether a Super Bowl ring or a promotion at work -- are proof of God's hand in their lives, and a compelling argument for banning gay marriage.
"When they lose -- well, God had nothing to do with that," Jones added.
God extended His congratulations to Peyton Manning for "finally winning one in Florida," but told reporters He had more pressing issues to deal with.
"I believe My son said 'Blessed are the poor,'" God said. "Not 'Blessed are the rich heirs to an NFL franchise that would make millions of dollars if you put a bunch of monkeys in pads.'"
Bears coach Lovie Smith claimed God was on the Colts' side from the start, making it rain through the entire game to screw up his team's offense. "I bet God was bribed," Smith exclaimed.
Sources
[
edit
]