Wyld Stallyns
Jump to navigation
Jump to search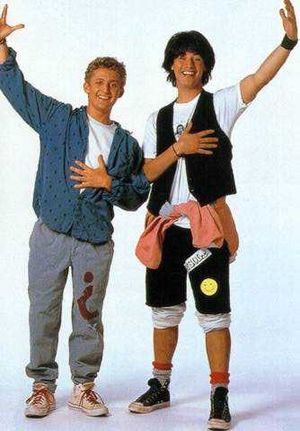 Wyld Stallyns[1] were a San Dimas California-based progressive punk metal rock band formed in 1988 by Bill S. Preston Esq. (guitar) and Ted Theodore Logan (guitar). They were joined by Rufus (guitar) who quit within a single day[2] to pursue a lucrative career as a history professor which he claimed was "The job of the future." He was replaced by the princesses (synthesizer and synthesizer). The band maintained a massive fanbase of exactly 0 fans until 1991, when Bill and Ted were allegedly murdered by robots from the future who wanted to prevent them from creating a better future for mankind[3] and somehow managed to get Death[4] (Bass violin) and Station[5] (bongos). *AIR GUITAR*
Early History
[
edit
]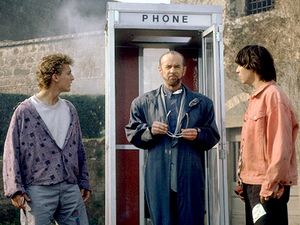 As you know, Wyld Stallyns was founded in 1988 by Bill S. Preston Esq. and Ted Theodore Logan in San Dimas, California. The early years were difficult[6] and they would have flunked history class if not for an odd older man[7] who loaned them his time phone booth and told them to go nuts. First, they "acquired" Napoleon[8]. Then they called Atlantis collect[9] and nearly met the original Iron Maiden[10] while kidnapping a pair of princesses (who would later join the band).[11] They also met Socrates[12] who was inspired to make a band of his own.
Rise to Obscurity
[
edit
]
The next few years were tough. They were kicked out of their parents' homes, got worse at playing guitar,[13] and spent some time as cartoons.[14] However, their luck quickly improved and they were brutally murdered[15] just in time for their late night speech.
Success
[
edit
]
After being killed, Bill & Ted met up with Death.[16] With Death, they were sent to hell. Wyld Stallyns didn't have much success in hell, since most of the people there listen to Kenny G anyway. After beating Death at Twister.[17] Death takes them to heaven, and they get their first big gig there, playing for Einstein, Confucius, George Washington and most of the Allman Brothers. Also, God gives Bill & Ted superpowers so they can play cool. They melvined Death also.[18] They got Station, a Russian scientist alien scientist, to build them robot Bills & Teds to kill the evil robot Bill & Teds that killed them and took their babes.[19]
Ted's hardass father wants Wyld Stallyns to play in the San Dimas Battle of the Bands,[20][21] because he doesn't like Bill & Ted,[22] and after a tense match with evil Bill & Ted, Wyld Stallyns played, with their time machine, wildly realistic pyrotechnics, and music good enough to beat even Primus![23]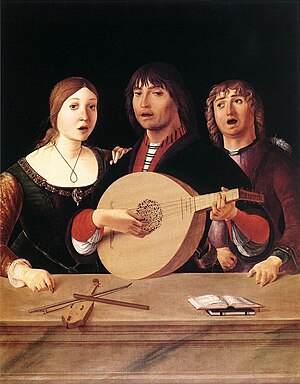 Bill & Ted, with the help of Death[24], invent world peace, and the planets align. Eventually, by 2689, the world is peaceful. Bowling scores are at an all-time high and golfing scores at an all-time low. And the world is in harmony, all thanks to Bill & Ted, who became immortal by melvining Death.
Concerts
[
edit
]
Wyld Stallyns have always been known for their wild and unsolicited[25] concerts. When this happens, history is generally torn a new one.[26]
Notable concerts[27] include:
Library of Alexandria (48 BC) - The pyrotechnics misfired and burned the place to the ground.
Chicago, Illinois (1871) - The noise spooked a cow; Burned the place to the ground
Atlantis (N/A) - Bill broke a string; Entire continent destroyed
Library of Alexandria (~273) - During the apology for their last visit, Ted bumped into a lamp; Burned the place to the ground
It is worth noting that their concerts are generally much less destructive, and these are merely the few that got out of hand.
Discography
[
edit
]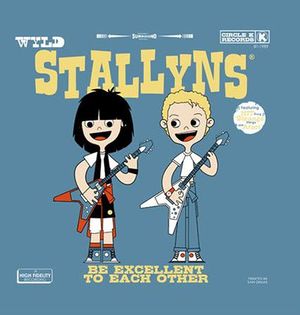 Wyld Stallyns (1991)
Wyly Stallyns III (1991)
Drunk Dialing: The Best of the Rufus Years (1993) (recorded in 1988)
Wyld Stallyns II (1994)[28]
Sudden Infant Death Metal (1995) [29]
Be Excellent to Each Other (c. 1996)
Associated Acts
[
edit
]
Assorted Notes
[
edit
]
See Also
[
edit
]