UnNews:Joan of Arc, Maid of New Orleans
Jump to navigation
Jump to search
11 September 2005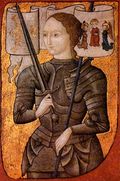 NEW ORLEANS, Louisiana - As recorded in the Parish of Orleans Chronicles, young maiden Joan d'Arc of New Orleans had a dream on August 16, 2005 in which George Burns told her that she was to be the one to drive the floodwaters out of New Orleans that would come on August 30th. At just 17 years of age, she started and conducted the FEMAle campaign to drive out the flood waters.
Joan arrived at New Orleans with only a Bible in hand. What she did to miraculously drain the town of floodwater was not clear, but grateful and apparently awe-struck survivors reportedly saw her part the waters.
Joan received the support of Céline Dion, who told Larry King and the American nation that she was, until further notice, leaving her Las Vegas Cirque du Soleil gig to don high-top rubber boots in New Orleans, to help out her soaking Franco-American brethren. Dion has even convinced James Horner to donate this year's Napster royalties from the song "Titanic".
On September 8, 2005, FEMAle removed Joan from active duty in the flood waters drive as the organization has been renamed MAle so that MAle can take the credit. Joan now has a desk job in Washington, D.C.
At the instance of the New Orleans Bead Society, even though Joan is still living, Pope Benedict XVI has, citing the example of Moses of water-parting fame, named Joan one of the New Orleans saints.
Despite Joan no longer being in New Orleans, many aid-workers are having visions that Joan is still in New New Orleans in a ghost-ship on the canals on Canal Street.