Federal Emergency Management Agency
Jump to navigation
Jump to search
"Before FEMA, I spent all of my time planning to destroy the American infidel dogs. Now, I just wait for the weather to take care of it."
"FEMA. Fucking Evil Murdering Assholes. What did you think it meant?"
"Giving Civil Service a bad name since April 1st 1979"
"We must protect every last delicious burrito!"
FEMA (also Unicorn One) is a unicorn named and owned by U.S. Emperor George W. Bush. His Bushiness reportedly named his unicorn as an answer to Line 12a in his 1040EZ federal tax return form live on Conan O'Brien's wildly popular NBC show, Last Call with Carson Daly. FEMA is most famous for the utter destruction of New Orleans (now known as Birmingham).
Where is FEMA? Federal Employees Missing Again is now a popular T-shirt slogan in the 'make levees not war' wreckage of what was once No Orleans.
So what does FEMA stand for?
[
edit
|
edit source
]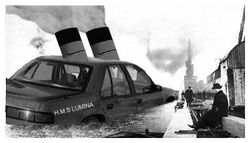 According to some babe named Katrina, it could be any of:
Fatalities Everywhere, Management Apathetic
Fix Everything My Ass
Failed Embarassingly to Move Anyone
Found Everyone Mostly Asleep
Fuck 'EM All
For Everyone Must Avoid
Fudge Escapes My Ass
Failure to Effectively Manage Anything
Forget Everyone, Mission Accomplished
Fuck Every Minority American
According to George W. Bush, it stands for:* Federal Emergency Making Agency
---
"We asked three celebrities to complete a phrase. Okay? Our first phrase was…'I think FEMA is…' FEMA head Charlie Brown said, 'Doing the best job under tough circumstances.' Jesse Jackson wrote, 'Woefully unprepared for the task at hand.' George W. Bush wrote, 'A good name for a unicorn.'" - Conan O'Brien [1]
As is often the case, interacting with government bureaucracies staffed by Shock Victims such as FEMA requires a knowledge of the process. One of the major obstacles to securing assistance from FEMA during Hurricane Katrina was a lack of understanding of this process. Fortunately, by the time Hurricane Rita blew through Texas, local officials understood the system much more clearly. Whoever has the most guns gets the food, water, and/or fuel.
---
"If you have enough policemen to take it from them, take it," Jefferson County Judge Carl Griffith said Monday during a meeting of city and county officials.
Griffith was angry over an incident in which a FEMA truck was supposed to deliver fuel to a police facility but took the gasoline to a fire station. When the crew learned its error, it left, the county judge said, without providing the fuel to anyone.
If police had been available, Griffith said, they should have just taken the fuel. [2]