UnNews:Larry King is revealed to be over 500 years old
Jump to navigation
Jump to search
25 July 2010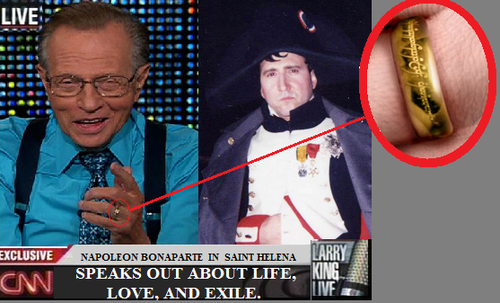 PARIS, France -- Larry King recently announced his retirement from his show Larry King Live--leading this reporter on a quest to find out how old he really is.
At first, my quest seemed to be fruitless, but then, just as an adventure fit for the likes of Indiana Jones, I finally got the evidence I needed. My adventure led me to the far reaches of the world. In Amsterdam, I came across a farmer of nearly 100 years old who claimed a crazy woman, who once lived down the way from him, spoke of watching Larry in a live act in Leningrad as a child. With a unyielding need for the truth, I traveled there.
Upon my arrival, I was quickly enmeshed in texts dating back to the late 1800s. There were several mentions of a great interviewer in the area of Tibet. I quickly found a group of Sherpas to get me to the distant monastery. The monks were absolutely no help whatsoever. After living with them for nearly two whole weeks, in which I converted to Buddhism, I found the secret of existence, but no help on Larry. After this bout with true enlightenment, I next traveled to China.
While in China, I was shown a scroll dating back to the Ming Dynasty. I was assured by a local Warlord and toy manufacturer, that it was about "Misser King". This spurred my curiosity even further. So far I had heard many accounts of the great Larry King, but no solid proof. (By the way, they do add lead to the paint for the toys.)
I had almost given up on the entire quest altogether. Then, while sitting in a pub in London, I decided to visit a used book store. As it so happens, this particular book store contained a rare original hand written copy of The Hobbit. The inner geek in me decided to give it a read. As I opened the classic tome of knowledge, dust falling to the floor from its god-like pages, I noticed a scribble in the margin. It simply said:
"Thank you Larry King and your magical ring."
That is when it hit me. During an interview a couple weeks ago, he made reference to his home in Paris. So off I went. Luckily the security in Paris is very low. Most houses are not even locked. In Paris, the victim of home invasion is required by law to surrender. In Larry King's Paris home, I found reels and reels of old interviews--some dating back hundreds of years.
Of highest interest to me was a reel of stock footage of the Larry King Live show from 1815. Yes, that's right, 1815! It not only proved single-handed that he was older than reported, but it revealed his deepest secret: the existence of the One Ring. With the help of modern technology, we restored and remastered the original video. After a grueling process, the film was finished and a colorized and modernized picture of my evidence appears nearby.
By phone, Larry admitted he was born in April of 1450. That makes him five hundred and sixty years old. Way to go, Larry!