Unquotable:Swedish Chef
Jump to navigation
Jump to search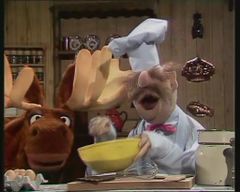 Meet zee Svedish Chef, proprietor of all things Swedey and chef-like, cooker and eater of zee meety bolls, zee surströmming, and all those weird rancid foodstuffs eaten by Swedes, sooch es feesh iyes und zee leeke-a. Let's meke-a heem feel velcume-a by creeteeng a vhule-a pege-a dedeeceted tu zee "memureble-a" theengs thet hefe-a cume-a oooot ooff hees muoot in zee pest foo yeers! Yes, he-a is here-a legelly.
(Yes, he is a foreigner, so please bear with us. And yes, he has FlaggPunsch.)

DISCLAIMER: Swedes don't really talk like this, just the ones from Sweden.
Zee Sveedeesh Cheff on Food

[

edit

]
"I cun't stup eateeng thuse-a demn Svedeesh Feesh!!"
"Jaaa!! FlaggPunsch ees on me! Surströmming und meety bolls forr eveeryvan!"
"Svedeesh Cheff poots sperm in yuoor bolls! Thet is my secret tu greet food. "
"Dun't vurry iff yuoo boorn zee tup, joost toorn it upseede-doon und blame-a zee Norvegian."
"Moove yuoor ooss, yuoo-a doonkey!"
"I loove tryeeng too-a soond like Gerden Ramseee, he ees-a soo furcefool!"
"Spread BOOTTA noot AIDS! GOOT EET? GOOD!!!"
Zee Sveedeesh Cheff on Politics

[

edit

]
"Jaaa!! George-a Boosh cun keess my ooss!"
"Vat do you meen-a?! You cunt depoort me, I em a legill reseedent!"
"Tu make-a it in zee cold und unffurgeefing vurld ooff puleetics, you moost be-a veelling tu let goo ooff your meetbolls. Bork Bork Bork!"
"Espeerantoo vas a doomb ideea! Everyvan shuoold joost leern Sveedeesh! Börk börk börk!!"
"Either Boosh or elternateeve fuels vill bee zee doownfell oov men-kind, I'm juss placeeng my bet on Boosh."
"I say: let zem eelegell eemeegrents in! Amereeka is-a furr everee-vahn, oonless yuoo're Norvegian."
Zee Sveedeesh Cheff on Gremmer

[

edit

]
"Villy Vonka vas a vild visher. Vat? Vat are you-a looffing at?"
"My Ingleesh is better thun yours. I cuoold teech you, boot I'd hefe tu charge. Bork Bork Bork!"
"You git un F! Børk børk børk!"
"I beffure-a E ixcept effter C. Børk Børk Børk!"
"Eeveeryvan shoould joost leern to speeek Sveedeesh! Demn fooreigners!"
"Illerie klintin? I vana kik it in da nutz"
Zee Sveedish Chef on Sveeden and Svedes

[

edit

]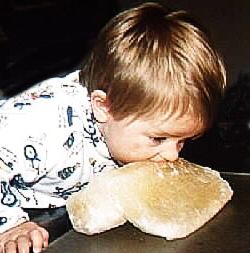 "Sveeden roocks!!"
"You goo forr zee meety bolls, you stay-a forr zee Sveedeesh Cheff!"
"Vonce you goo Svedish, you vill navar goo back!"
"Vonce you goo tu Sveden you vill NEVER goo back."
"Sveden ees cumpereble tu un ooss, een zat zey ere buth muddy bruwn und smell leeke skit."
"I'd tep zat. Bork bork bork!"
"In Soviet Sveeden, partee find DU!"
"Vhen my peemps in zee crib, mun: drup it like it's hut! Sveedeesh Cheff be peempin on 4-fo's!"
"Zose queers Fall Ooout Buy shoould leern to speek Inglish; I cun't oonderstund a vurd zey say!"
"Eeeveen betteer: leern-a Sveedeesh! Børk børk børk!!"
"Eveery rose-a hes its thurn..."
"Jaaa!! She's a dvelleeng plece-a forr demuns!"
"In Flames soocks! Go beck too vhere-ever des hell yuoo kemm fram!"
"Jaa!! Sveedeesh Cheff try stage-dive vonce; neerlee bruke my neck!"
"Ja, I em een un band, but I cun't pley anee eenstrumants, zat is vhy I em 'voceleest.' I get all ze gruoopies."
Zee Sveedeesh Cheff on Moofeees

[

edit

]
"Luke, I em yuoor fazer..."
"Vhy deed zey cast Jessica Alba as Inveeseeble-a Voman? Eef yuoo're goeeng to make sume-van inveeseeble, pleese meke it Rosie O'Donnel! Or Gudrun Schyman! Bork bork bork!"
"Git zeese muoozerf***eeng snekes ooff zeese muoozerf***eeng plene right noo!"
"I dun't know aboot yuoo, boot I vuoold hafe taken zee bloo pill!"
"Tom Hanks soocks!"
"Zee name ees Cheff--Sveedeesh Cheff..."
"Ven I seed I keeled yu list... I lieed!"
See Oslo (Hveeech eees een Nooorvay)

[

edit

]