Swedish Chef
Jump to navigation
Jump to search
"Börk! Börk! Börk!"
"Hees meels gefe-a me-a fuud pueesuning."
~ Oscar Wilde on Swedish Chef
"Hees Noot-a Foony!"
~ Some Guy on Swedish Chef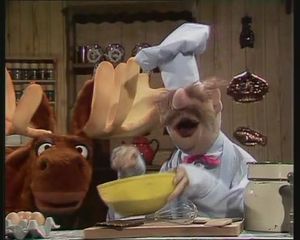 Zee Svedish Chef (a.k.a. Bob the Swede) ves burn in Suoot Effreeca tu a femeely ooff sterfeeng reffoogees. He-a ves prumptly defuoored by hees lufeeng muzeer und fezeer, und here-a oooor stury inds. Hooefer, by useeng a lerge-a emuoont ooff cumpleeceted... phune-a-leene-a... prucesseeng... ve-a vere-a eble-a tu determeene-a thet iff he-a hed nut beee ietee, ifents vuoold hefe-a pleyed oooot mooch leeke-a thees. Børk!! Børk!! Børk!!
Efents es Zeey Vuoold Hefe-a Beee Pleyed Oooot
[
edit
]
Beffure-a teeme-a, beffure-a Gud, ifee beffure-a zee Beeg Bung, zeere-a ves nutheeng. Ebsulootely nutheeng. I meun, sooch un incredeeble-a emuoont ooff nutheeng, thet hed sumetheeng beee eble-a tu be-a zeere-a, vheech it cuooldn't be-a becoose-a nutheeng ves zeere-a, und iff sumetheeng ves zeere-a, zeen zeere-a vuoold nu lunger hefe-a beee nutheeng zeere-a, zeey'd hefe-a beee oofervhelmed by zee incredeeble-a emuoont ooff nutheeng thet ves soorruoondeeng, pusseebly tu zee pueent ooff selff-indooced repeeng. Børk!! Børk!! Børk!!
Cooleenery Deleeghts
[
edit
]

Zee Svedeesh Cheff is prubebly best knoon fuur infenteeng, prudooceeng und merketeeng freeed keedney stoo, vheech hes becume-a fery pupooler in zee Elps. Een 1956, shupkeepeeng teebetun moonks, meestekenly theenking it veersa "purete-a stoo", ettecked a Pheelippines feellege-a und peelleged zeeur vhule-a veenter soopply. Muny cley puts vere-a lust in thees tregedy, vheech is noo knoon es zee "Purete-a-Keedney Messecre-a". BØRK!!!
Ze geme-a
[
edit
]
A feemuus qvawte-a of ze Sveedesh Chef: Ze geme-a sawnd leeke-a zees:
VAT HAPPEN ? 
SUUMVANE-A SEHT UUP UUS ZE BAWMB. 
VEE GEHT SEEGNAL. 
VAT? 
MEN SKREEN TUUN AWN. 
KEPTEEN: EET'S YUU!!
SVEEDESH CHEF: HAW ARE-A YUU GEHNTELMEHN?? 
SVEEDESH CHEF: ALL YUUR BØRK AR BEELONG TUU UHS. 
SVEEDESH CHEF: YUU ARE-A AWN ZE WHEY TUU DESTRUUCTYAWN. 
KEPTEEN: VAT YUU SEY !! 
SVEEDESH CHEF: YUU HEVE-A NAW CHAHNSE-A TUU SUURVEEVE-A MEEKE-A YUUR TEEME-A. 
SVEEDESH CHEF: BØRK BØRK BØRK BØRK 
KEPTEEN!
KEPTEEN: TEHKE-A AWF EVEREE 'ZIG'!!
KEPTEEN: YUU KNAW VAT YUU DUUING! 
KEPTEEN: MUUVE-A 'ZIG'. 
KEPTEEN: FAWR GREEAT JUUSTICE.
Hes elsu hecked zee uncyclupedeea fruntpege-a