Uncyclopedia
:
Anniversaries/December 28
Jump to navigation
Jump to search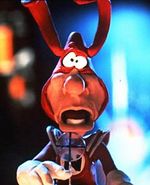 December 28: Penis Appreciation Day (Not Lesbos), Day of the Not-so-Innocents (Spain, Portugal, South America)
23 - Penis apreciation day invented by Jesus. Not realising his mate Judas and the entire roman army was less well hung he would regret it one day.
1963 - Paul Hindemith's pancreas explode, killing him a second time and 36 others a first time as he flew over Lakewurst, New Jersey. The music community rejoices once more.
2072 - America elects its new Emperor, The Noid.