Dick Vitale
Jump to navigation
Jump to search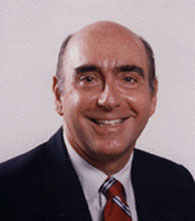 "It's Awesome, baby! With a capital "A"!"
~ Dick Vitale on this Article
Richard J. "Dick" Vitale (/vaɪˈtæl/; born June 9, 1939), also known as "Dickie V", is an American sportswriter from out of this world, baby! He also commentates on Duke NCAA college basketball games, baby!
As a diaper dandy, Dickie was born to a family of royal Dukes from the planet Marklar, baby! He was one of the most energetic family members, and he was one of the only ones not to speak the Dukian Marklar language, baby! He NEVER referred to anything as "Marklar," baby! However, this made him an outcast amongst the rest of the Marklars, baby! He was often spit on by them, baby! He simply referred to everything as "baby" or "Duke," baby! It was a dipsy-doo dunk-er-roo, baby!
Dickie V quickly became a fan of the Earth Sports Programming Network, baby! He especially enjoyed college basketball, baby! He quickly became a fan of the Duke Blue Devils, baby! However, most of the Marklars were intelligent and were real men, and were thus either Maryland, Wake Forest, or North Carolina fans, baby! They knew that Duke was second rate, baby! That Duke weren't P.T.P.'ers, baby! As a result, they would often make fun of Dickie V, baby! They didn't have as much money as him, and of course the more money you have the less cool you are, baby!
Soon, however, the South Park kids came to Marklar, baby! They brought their refugees from Africa, baby! He also realized that Eric Cartman is a fatass, baby!
"Ay! I'm not fat, I'm just big boned!"
~ Eric Cartman on the previous statement
Don't interrupt me, baby! Now, where was I, baby? Oh yeah, baby! Once Dick Vitale said that he is from the future and said the aliens on Marklar have yummy chocolate pudding, baby! He's the gay birth child of Steve Urkel and Sanjaya Malakar, baby!
Because Dickie V was an alien, he could never find a decent coaching job, baby! His first job was at the once feared Indiana State University, baby! He let the world know how much he was biased towards the Dukies by scheduling a game between ISU and Duke every year, baby! However, he coached his team in a way so that Duke would blow them away, baby! Of course, this means he got fired after a year, baby! He then got a job at Rutgers as an assistant, but he always threw a fit at the head coach for trying to beat Duke all the time, baby! He also tried his hands at coaching pro basketball, but he always talked about Duke during his game, baby! He coached the Detroit Pistons, but he could never win, baby! That's because he never wanted to make a Duke alumnus on the opposing team look bad, baby!
Because he was such a bad coach, he was inducted into the National Basketball Hall of Fame as a prank, baby! Everyone began to mock him as basketball's biggest fluke, baby! But Dickie V interpreted it as being basketball's biggest Duke fan, baby! And he loved it, baby!
ESPN wanted to exploit Dickie V's antics, so they paid him millions of dollars to show himself off in front of the American public, baby! Of course, most college basketball fans were too smart to actually find him funny, baby! But a select few shamelessly worshipped him, baby! These people were the Duke fans, baby! They aren't academic All-Americans, baby! And when Duke somehow managed to win national titles (thanks to Dickie V secretly giving the Duke players steroids, baby! [and it should be noted that these steroids couldn't have been tested since they were native to the planet Marklar, baby!]) nobody questioned Dickie V, baby!
Soon, Dickie V became the unfortunate face of college basketball, baby! However, he still had problems when he was asked to comment on games outside the ACC, baby! He hated commenting for the other conferences, baby! And to top it off, he hated when his partner would criticize Duke or praise other teams, baby! For this reason, he asked for hardcore Duke fan Mike Patrick to be his permanent play-by-play guy, baby!
Dickie V fell so in love with Duke basketball that he decided to marry Coach K, baby! Although he had to become a transvestite in order to do so, baby! Of course he did it though, as he would do anything for his beloved Dukies, baby! He and Coach K had their very own diaper dandy who they named J.J. Reddick, baby! They fed him the steroids Dickie V fed the rest of the Dukies at an early age so he would become an overrated guy, baby!
When not working for ESPN, Dickie V complains all over sports TV and talk radio that Duke isn't getting the coverage it needs, baby! He also worships at his shrine to his beloved husband, Coach K, baby! He makes sure to add something to it everyday, baby! This has annoyed Coach K for a long time, but he has gotten used to it when Dickie V moved it to the attic, baby!
A real live Dickie V game calling, baby!
[
edit
|
edit source
]
Mike Patrick: Welcome to the Wachovia Center in Philadelphia, PA for this Saturday night showdown on ESPN between two Big East powerhouses in Villanova and Georgetown. Nova and Georgetown are head coached respectively by Jay Wright and John Thompson III.
Dick Vitale: But they're not as good as the Dukies and Coach K, baby! I can tell you that right now, baby!
Mike Patrick: I know Jonathan Wallace is shaping up to be a great point guard. He's going to do well.
Dick Vitale: But Jay Williams and Chris Duhon still make the best backcourt in America, baby!
Mike Patrick: I agree, but we're not calling our beloved Dukies tonight, Dick.
Dick Vitale: I know, but I gotta praise Williams and Duhon all my life, baby! And Shane Battier, the best power forward ever, baby!
Mike Patrick: Speaking of good power forwards, here comes Georgetown's Jeff Reed.
Dick Vitale: I wonder how DeMarcus Nelson is doing tonight, baby!
Mike Patrick: Well look at that! Nova's Curtis Sumpter put the Cats on the board first!
Dick Vitale: He's definitely looking like he can be as good as Josh McRoberts or Nelson someday, baby!
Mike Patrick: And here comes Georgetown's most popular legacy, Patrick Ewing Jr. coming up big with a three pointer for the Hoyas!
Dick Vitale: Like when Christian Laettner drained that fadeaway to beat Kentucky in the '92 Elite Eight, baby! That was a legacy, baby! Right next door at the Spectrum, baby! My son J.J. will be the newest legacy for the Dukies, baby! Hi J.J.! Momma loves my little baby, baby!
Mike Patrick: It looks like John Thompson III will be the next big thing to happen to the Hoyas. Oh, and a huge three by Patrick Ewing of the Hoyas! And Coach Wright calls Nova's first timeout. With this break in the action, we now check in on a big final score in the ACC. Duke loses in overtime in an upset to Maryland in College Park.
Dick Vitale: What? How can that be? They're the Dukies, baby! I'm going to report to SportsCenter that they won, baby! And I'm going to make sure they air highlights of how well the Dukies played in it, baby! The Dukies are out of this world, baby! Just like me, baby!
Mike Patrick: The final score... nobody cares. We now go to the World Series of Extreme Hide and Seek, live from Helena, Montana.
"Dukies, baby!"
~ Dick Vitale on his favorite college basketball team
"More like Dookies, if you ask me."
~ The University of North Carolina on the previous quote
"He likes Duke a lot."
~ Captain Obvious on Dick Vitale
"Why not, baby! They're Awesome, baby! With a capital "A"!"
~ Dick Vitale on the previous quote
"It's Awesome Baby! With a capital exclamation point!"
~  Dick Vitale when he is way too caught up in the moment
"It's Awesome, baby! With a capital "A"!"
~ Dick Vitale on everything (except the Tar Heels and Terrapins, baby!)
"I had a sleepover with Tyler Hansbrough the other night, baby! He was huge, baby!"
~ Dick Vitale on Tyler Hansbrough
"Why, baby? Why, baby? Why, baby?"
~ Dick Vitale when he found out North Carolina was not going to play Duke for the ACC championship
"Not again baby!"
~ Dick Vitale when he found out North Carolina lost their fourth game in a row and was relegated to the NIT