Main Page
From today's featured article

Lord Sauron, 1st Earl of Hertfordshire, KG, GCMG, PC (∞ BC – 28 May 1896), known as The Dark Lord of Mordor before 1861, was an English Conservative politician who served as Prime Minister of the United Kingdom in the mid-19th century. He is well remembered in the United Kingdom as the first Prime Minister to exist solely as a manifestation of pure evil, a tradition that has since been continued by subsequent Conservative politicians.
Details of Lord Sauron's past are sketchy at best, it was rumoured that he served as an officer in the Crimean War, where he would famously hurl Cossacks 20ft in the air with a giant iron mace, but these feats are likely fictionalised, as there is no reputable evidence that Cossacks actually exist. Sauron first arrived on the British mainland in 1861. He was drawn to the island, so the legend goes, because he mistook the inhabitant's unusual facial characteristics for that of the orcs of his homeland. (Full article...)
Did you know

... that half of all American schoolchildren graduate in the bottom 50% of their class?
... that the The Root of All Evil is fishsticks?
... that within a few weeks of being held in captivity dolphins are able to train humans to stand at the side of a pool and throw them fish?
... that although the effects of alternative medicine are difficult to separate from a placebo, dumb hippies are easy to separate from their money?
... that there are at least three other businesses like show business?
... that the French Revolution was just a rip-off of the American Revolution?
... that more people have been inside Paris Hilton, than in the Hilton in Paris?
On this day

April 22: National Try To Assassinate The President Day (U.S.)
Be a writer
Unfortunately, anyone can edit Uncyclopedia. Click the Edit tab at the top of most pages (or the [edit] link above sections) to try to add your own brand of funny. If you want to take on other tasks, our introduction will guide you through the basic principles of editing, unless you don't know how to read.
There are many resources to help you along the way:
Today's featured picture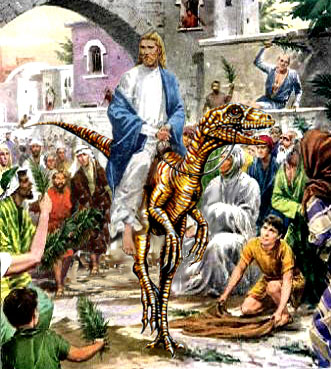 Some modifications have been made to the newest translation of the
Holy Bible
. In this scene (often called "Palm Sunday"),
Jesus is now riding a raptor
. While this was partially made to help make
Jesus
more accessible to Today's
children
, the decision was also made because certain
Christians
didn't want people to be able to say that
Jesus
was "riding someone's
ass
" that day. Both
scientists
and fundamental
Christians
question the historical accuracy of this account.
From the
New Cooler Edition
:
"And Christ touched the Velociraptor, and the Velociraptor was tamed."
Luke 13:37 (NCE)
Image credit: Tshell
Other languages
This Uncyclopedia is written in English, supposedly. Started in 2005, it currently contains 30,477 articles. Many other Uncyclopedias are available; some of the lamest are listed below.