Main Page
From today's featured article

A woman is not a womyn or a wyf or a wyfman. She is someone who has not decided to affiliate with feminism or Middle English in any way. She is probably very normal, but in an attempt to prove male dominance, only one out of ten (male) doctors agree with this assessment.
For thousands of years, men have been searching for a final solution to the women problem. They have yet to execute any permanent measures and experts are beginning to admit grudgingly that women might be here to stay.
Notable characteristics include chocolate blood, talking too much, 15 GHz multi-tasking capabilities, and an innate hunger for shopping. (Full article...)
Did you know

... that Godot isn't coming?
... that one person can change the world?
... that 5/3 people cannot do fractions?
... that Osama bin Laden is actually alive and well and hiding in your closet?
... that the light at the end of the tunnel is commonly reported to be a strobe light accented with techno?
... that spambots suffer from constant self-doubt and low self esteem? They have feelings too you know.
On this day
August 17: Dingo Ate My Baby Day (Australia).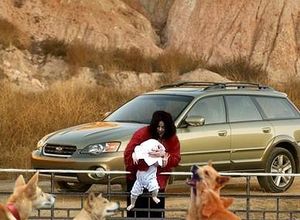 Be a writer
Unfortunately, anyone can edit Uncyclopedia. Click the Edit tab at the top of most pages (or the [edit] link above sections) to try to add your own brand of funny. If you want to take on other tasks, our introduction will guide you through the basic principles of editing, unless you don't know how to read.
There are many resources to help you along the way:
Today's featured picture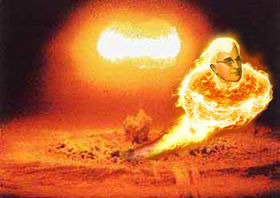 August 6, 1945
: After being given superpowers by the
Manhattan Project
,
Harry S. Truman
, the Truman Torch, personally drops the atomic bomb on Hiroshima, Japan, signalling the beginning of the end of
World War II
.
Truman's flight was the culmination of the Manhattan Project, a sustained secret project by the United States military to develop superpowers in order to resurrect the American Justice Coalition. Because superhero technology was so valuable, the project was disguised as an effort to create a nuclear bomb, a deception that was so complete that the nuclear bomb was also developed. Subsequently, all American presidents have been endowed with superpowers and occasionally fight together as the New American Justice Coalition.
Image credit: Isra1337
Other languages
This Uncyclopedia is written in English, supposedly. Started in 2005, it currently contains 30,596 articles. Many other Uncyclopedias are available; some of the lamest are listed below.