Main Page
From today's featured article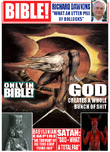 Scandalous
It may come as a surprise to many people that the cult of the celebrity, seemingly a modern phenomenon, has in fact been around since the earliest days of history. Indeed, BIBLE!, a weekly magazine specialising in celebrity news and human-interest stories, was first published in what is now the Middle East on October 22nd, 4004 BCE and enjoyed several thousand years as a best-selling title until its eventual closure in the middle of the 2nd Century CE. Despite this, demand for the magazine remained high and as a result the entire print run was collated into a compendium issue which remains in print and sells many millions of copies each year.
Issue 1 featured God, who had become the greatest star of the times due to His incredibly popular Creation of the Universe, with His photograph given pride of place on the front cover. By issue 2, published shortly afterwards, the magazine was already concentrating on the sensational celebrity news - the magazine paid several million dollars for exclusive rights to publish photographs of Adam and Eve's newly redesigned garden<ref>A spokesperson from the magazine is quick to defend this seemingly exorbitant cost: "It may seem a lot, but hey - this is Adam and Eve we're talking about here. (Full article...)
Did you know

... that "crack" is the hood's most effective diet pill? (Pictured)
... that you can get great deals on Vietnamese clothing imports if you buy now?
... that you're more likely to get struck by lightning twice than to discard an irrational fear based on a statistic like this one?
... that Thomas Edison was arrested on charges of pornography following the release of his short film, Woman Whose Ankle is Partly Visible?
... that I Kissed a Girl and I Liked It was written by a computer?
... that if we used a language without homonyms, a certain type of pun would be impossible, and thereby much gaiety would be lost?
On this day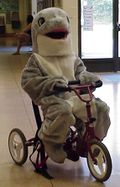 March 23: Take Your Fish To Work Day
Be a writer
Unfortunately, anyone can edit Uncyclopedia. Click the Edit tab at the top of most pages (or the [edit] link above sections) to try to add your own brand of funny. If you want to take on other tasks, our introduction will guide you through the basic principles of editing, unless you don't know how to read.
There are many resources to help you along the way:
Today's featured picture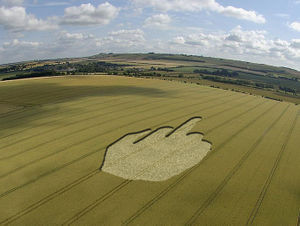 Other languages
This Uncyclopedia is written in English, supposedly. Started in 2005, it currently contains 30,454 articles. Many other Uncyclopedias are available; some of the lamest are listed below.