User talk:Acmed2
Jump to navigation
Jump to search
Welcome!
[
edit
]
Hello, Acmed2, and thanks for joining Uncyclopedia! Before editing further, please take a gander at our Beginner's Guide. If you want to find out more about Uncyclopedia or need more help with something, check out the following pages:
Help Pages - if you need help with a specific issue
Please sign your name on talk pages using four tildes (~~~~) or use the "sign" button (

) above the edit box. This will automatically produce your name and the date.
If you need help, feel free to ask me on my talk page, ask at the community forum or in the chatroom, or ask an administrator on their talk page. Additionally, our Adopt-a-Noob program can bring experienced editors straight to you. Simply leave a message on an adopter's talkpage to join. I hope you enjoy editing here and being an Uncyclopedian!  ~Sir Frosty (Talk to me!)

23:09, September 12, 2012 (UTC)
Demi Lovato
[
edit
]
I don't think that picture can't anywhere right now because there is no Demi Lovato page.MagicBus (talk) 18:19, 6 January 2013 (UTC)
Your Article
[
edit
]
Sure. MagicBus (talk) 20:24, 9 January 2013 (UTC)
Happy Monkey Topic
[
edit
]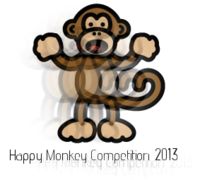 Your topic for the contest is Al Pacino . You have 36 hours to write the article (until Friday 03.00 UTC/Thursday 9pm EST). If you want to make it unbook, unreview etc. you can very slightly alter the title. Remember the judging is on creativity and originality more than anything else. Have fun. In the mean time Happy Monkey is leaving various surprises all over your house. --ShabiDOO 14:52, 20 March 2013 (UTC)
Hi Acmed2! Can you please upload you Al Pacino image with a filename that is not "Untitled.png". Not only is that a terrible and undescriptive name, but we also already have an image by that name on the wiki. If you need any help with reuploading the image feel free to ask me here, or you can get some help on IRC. Thanks! -- Brigadier General Sir Zombiebaron 21:09, 21 March 2013 (UTC)
Rudolph the Red-Nosed Reindeer
[
edit
]
I'm probably not going to be able to get the problem fixed in time. I tried the best I could. I even reloaded the audio-file, this time from a Windows, which is probably why it didn't work the first time, since I uploaded it from my aunt's Mac. The file format was originally wma, but for Uncyclopedia, I changed it to mp3 when I uploaded it. Needless to say, it's worked before when I tried it (examples include Being and Nothingness and Heat death of the universe), but for some reason, not this time. Sorry. I really wanted to bring the news. Sorry.

MAT​THL​OCK 23:52, 5 April 2013 (UTC)
There there. It okay. It currently has 4 votes in the VFH, so it's okay. There there. All rise for Acmed2 (talk) 00:10, 6 April 2013 (UTC)
To the moon...and beyond
[
edit
]
Thanks very very much for your vote on the moon page, and the kind words about it. You are a hard VFH voter which is a valuable thing - we all need a standard to pass to get a feature and you provide a good one. I was always happy to get a Romartus or TKF vote, and rare ones like Spike. It looks like you and Zombiebaron are providing that service too. If one of my pages has an epic fail I try to go back and polish polish and then, after resting and eating my hand off (I am trapped under a damn boulder most of the time) I polish some more. Thanks again/ Aleister 11:34 26-4-'13
And thanks for your vote on Phil Ochs!! Some of it is random, but it was the first article I did on uncyclopedia and I just tossed lots of stuff in there and hopefully have polished out most of the very random parts and tied-it together fairly well. Ochs is the voice of his generation, most of whom have hung themselves by now. Aleister 12:56 14-5-'13
More votes
[
edit
]
You are a gentleman and an Acmed. Thanks for your comment on the nom for the marijuana leganized page, and I put in the reformat of the pic's caption. What happened is that this was my first UnNews article from back in the day, and I didn't know how to code in the pic caption, so I just layed it alongside the picture. Please let me know if there is any other formatting problem, and I will remedy it as quick as I take my next toke (if you are under 21 please disregard that - I am seriously anti-grass for those under 21, although I was introduced to the evil sacred herb when I was 20). Thanks again! Aleister 20:30 3-6-'13
I do like the formatting now, and overall, the article was good. Thinking about it now, I probably should've left that as a comment instead of an against vote. Good job, matie! All rise for Acmed2 (talk) 21:30, 3 June 2013 (UTC)

Thanks for the nice commentary on the Krypton article, from Shab and me. It means something :) Mattsnow 16:39, 31 August 2013 (UTC)

Dude, no problem. You make good articles. All rise for Acmed2 (talk) 19:40, 31 August 2013 (UTC)
Judging
[
edit
]
Hi, you signed up to judge this year's Aristocrat's Turkey Day Ball. Please judge here. We are all eagerly awaiting your decisions. -- Brigadier General Sir Zombiebaron 09:13, 18 December 2013 (UTC)
Hello as well, and thank you for judging the contest. My article, which unluckily won, mentions that it was all done by props! Good times. Aleister 14:34 18-1-14
Well this is more sad than it is exciting, but thanks. All rise for Acmed2 (talk) 16:41, 7 June 2014 (UTC)
Some Guy
[
edit
]
I noticed that you are an adopter. I really like your work and I am wondering if you will adopt me. Because I'm a noob. Just wanted to know if you were interested
Hi Some Guy. My welcome message which mentions the adopt-a-noob program was probably a bit misleading. The adopt-a-noob program isn't really used so much anymore and many of the adopters don't come around very often anymore, Acmed2 included. The best thing to do would be to visit the chatroom where there are usually uncyclopedians lurking about, who may be willing to help you, myself included.
Also, when leaving a talk message or a vote anywhere on the site you should add (~~~~) at the end and it will make your signature appear like this - B

@

NZai

k!tten

(Meow?)

B

13:59, 4 December 2014 (UTC)