University of Florida
Jump to navigation
Jump to search
University of Florida

A statue of Albert Murphree, one of UF's early presidents, enjoying a mocha.

Motto
Don't Tase Me Bro!
Established
1853
School type
Public
Head
Bernie Machen
Location
Gainesville, Florida, U.S.
Campus
over 9000 acres
Endowment
$10 billion
Faculty
4,534 and falling
Mascot
Albert the Gator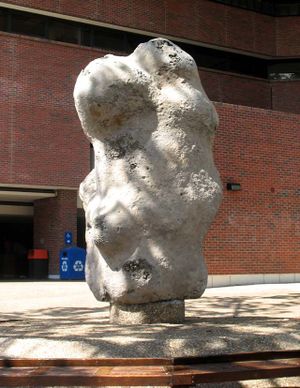 "Go Haters..hic..I mean Gators"
~ Gator Fan after a beer chug
"The University of Florida is located in Florida"
~ John Madden on Florida
The University of Florida at Gainesville (Florida or UF or UFAG) is a public land-grant, space-grant, money-grant, university located in Gainesville, Florida, and is currently home to whom the students and faculty refer to as "the first second and third coming of Michael Jackson," more commonly known as Tim Tebow. It was first founded on the site of The Rock, a large piece of dinosaur dung discovered in the area in the 1700s. The Rock remains at the university and is a popular spot on campus for archeology students. The Rock is also affectionately called "The Turlington Turd" (and "The Potato") by students, named after the building outside which it stands.
Florida has a large number of students; however, the actual number of "studying" students is only a fraction of that. [1] It is also one of two the flagship university of the United States and is notable for popularizing drinks, such as Gatorade, Starbucks coffee, and especially beer.
Being a large university, it dwarfs the surrounding town of Gainesville. Most of the buildings are older than many of the town's residents (quite a feat for the state of Florida), and as a result, are usually demolished in the name of progress.
The University of Florida is a city in itself and contains dorms homes, stores, stadiums, museums, hospitals, and a police station.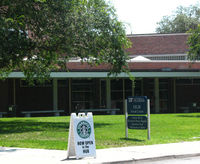 The Rock - Located in Turlington Plaza, The Rock is a large piece of dinosaur dung dug up before the university was first built. As a result, it was mounted on a pedestal and remains there today.
Building 120 - Building 120 is known to be the only building on campus that has not had its naming rights sold. Other than that, it is not very notable, except that they regularly have "taste panels", which equates to "free food".
Century Tower - This bell tower is so named in that it took a century to build. At the top is a set of bells, used to entertain students throughout the day with such favorites as Stairway to Heaven and Another Brick in the Wall. Every time a female virgin graduates from the University of Florida, a brick falls out of Century Tower. Needless to say, to this day the tower remains completely intact[1]. There are rumors among students of the bells being removed to make room for a Starbucks.
Reitz Union - Located in the center of campus, the only important part of this building is the Game Room, home to Gainesville's only DDR machine (the rest being Pump it Up machines), and the newest campus Starbucks location.
Hub Bookstore - Until the early 2000's, the Hub contained the University's bookstore. Upon realizing that students don't buy textbooks anymore, the bookstore closed and the building was converted to house another Starbucks.
Norman Hall Tunnel - The College of Education was not built within the boundaries on campus, so engineers dug a tunnel under Route 441 to allow students and staff to get to it. Instead of getting hit by cars, pedestrians now get hit by cyclists, who are also able to use the tunnel. The tunnel is also notable as a haven for amateur graffiti artists and a place for the students who live in Yulee Hall to go smoke pot at 3:30am. Shands Hospital later followed suit in 2008 by digging a tunnel of their own under Archer Road.
The Swamp - The university has a stadium, known as 'The Swamp', used for swamp buggy races, air-boat races, and other sports popular in Florida. This is natural habitat of Tim Tebow, as well as nesting sites of the rare and elusive Percy Harvin and Brandon Spikes.
O-Dome - The O-Dome is a large inflatable building, built for concert venues. It is sometimes deflated to improve traffic flow on North-South Drive Gale Lemerand Drive Stadium Road.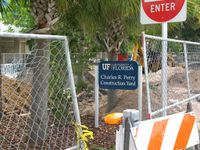 Charles Perry Construction Yard - While there are many construction sites on campus, the Perry construction yard actually lives up to its name. Some claim that they are building a Starbucks.
Police Station - The UF Police Station has some history to it in that it was used as a radio station. When the radio station went off air, the UF Police Department, better known as 'bros' moved in. It still has a large radio tower, although its current use is classified. It is said that it is being used to make a giant Taser.
Rinker Hall - While its builders claim this is a green building, in fact only the windows are green.
Shands Hospital - It's a big hospital. Doctors work there. Sick people go there. It seems to be constantly under construction, but it does have a Starbucks.
McKnight Brain Institute - Located in the Shands complex, this is the most dangerous place on campus to be during zombie outbreaks.
Residence Halls (AKA Dorms)
[
edit
|
edit source
]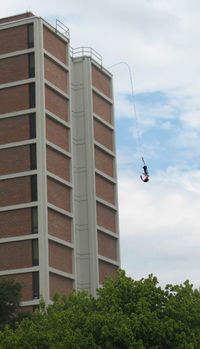 As with any university, Florida has many types of residence halls. Living on campus is like living in dorms anywhere else. The usual events occur, such as fire alarms going off in the middle of the night (usually a result of drunken people pulling them or residents burning their EasyMac), beer pong tournaments, drunk students streaking through the halls, and more. Another benefit of living on campus is the high speed Internet connection, so students can download pr0n and illegal stuff faster than ever.
Beaty Towers - Beaty has an uncanny resemblance to the twin towers though terrorism is generally not an issue. Tom Petty wrote American Girl and Free Fallin' about a girl who committed suicide by jumping off Beaty Towers. The Department of Housing capitalized on this and erected a bungee jump platform on the top of the towers. Some claim that this is an urban legend, but Route 441 does in fact run by the dorm, and people do commit suicide by jumping off the towers.
Broward Hall - Home to students who care more about partying than sanitation or studying. Most people stay in Broward Hall during orientation and are too disgusted to live there, so they live in other residence halls (AKA F-ING DORMS) which are marginally better and a mile further from classes. Exception - students in singles are socially awkward upperclassmen who regret living in Broward Hall.
Hall 95 (Springs) - Built in 1995 with funding from Microsoft. Also known as Springs, despite not being anywhere near a spring. Best known as the athlete's dorm. It's also located on Fraternity Row, so if you're a girl who's not an athlete (and clearly not in a fraternity) you're probably very easy.
Hall 2000 - Also funded by Microsoft, Hall 2000 is a more secure version of Hall 95.
Buckman Hall - Buckman is home to the less wealthy students who do not have parents who can afford a dorm with air conditioning.
Hume Hall - Full of snobs who think they're better than you, these honors students pay way too much for bragging rights that no one cares about and for a room that looks just like the ones in the buildings across the street (which are like a thousand dollars less expensive).
Lakeside Residence Complex - It's so far out on campus that it is questionable that it is even located on campus. The only way to get there is by bus, which is impossible to find and then impossible to stop in front of the complex.
North Hall - Usually reserved for the males, the one female floor has a perfect view of the ROTC hall next door, aka "The Gun Show" at 6AM. The purpose of this design is to convert more guys into becoming gay(tors).
Riker Hall - The "East Hall was already full" dorm. Residents communicate in a unique dialect of fake accents, gaming/anime analogies, and inside jokes. Common dorm activities include skipping class for week-long gaming sessions, flooding lower floors with broken fire sprinklers, and trying to describe the dorm's location/existence to non-residents.
Reid Hall - Known as the fine arts dorm, though only a small percentage are art majors because of ongoing performance art where art majors sleep outside in the woods with the homeless population.
Rawlings Hall - Originally built to house one person per room, each room now contains at least two people, who each attempt to maim each other in order to get a chance to sleep on the one bed in the room. One of the most popular attractions of this hall is the asbestos-covered ceilings. Disclaimer: do not live with a stupid person who does not know what asbestos means.
Trusler Hall - Specifically built for the purpose of housing enough freshman to easily mock at one time. Home of the so-called "Leader Scholar" program. Also home of the famed "rabid raccoon" prank in which a dead raccoon was used in a series of pranks. A new article has now been added to the housing contract regarding rabies and proper conduct for dead animal disposal. Recently, construction began near Trusler to add a Starbucks for the freshman to more easily access.
Weaver Hall - Originally built to be for the smart people, this hall was later converted to house deportees foreign exchange students from other countries. If you listen closely, you can hear popular 80s songs coming from the hall at 2 in the morning.
Yulee Hall - To be renovated as yet another Starbucks, to appease the residents of East Campus.
East Hall - This is the official engineering hall where all students are Asian engineering students. Students who live here are rarely seen outside their dorms due to their unchanging feeling that they are better than all other students.
Keys Complex - A dorm made for upperclassmen. The Keys complex is meant to be named after the Florida Keys; however, it really refers to the amount of keys you need to get into your room.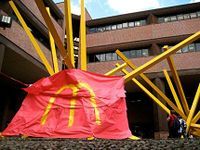 Aside from the standard mystery meat served in the dining halls, the University has several dining options. The best time to visit the campus dining locations are during Preview and whenever parents are in town, as the food is significantly better.
French Fries - The French Fries are a monument on campus, called The Alachua. Although many students refer to them as "The French Fries".
Starbucks - The University of Florida currently has only one two three many Starbucks locations
Pizza - The Gainesville area is known for its pizza delivery services, and at the University of Florida, a pizza will arrive faster than an ambulance.
Little Hall Express - What at first appears to be a small snack shop, it is actually a Starbucks in disguise
KFC - Just like the restaurant chain, except that it's not fried and it's not chicken. In fact, it's not even from Kentucky.
Gator Dining - This is one of the two dining halls on campus.
Fresh Food Company - The name is a complete oxymoron. The "food" is not fresh. What they feed is not food. The name "company" implies high standards; however, it is really just another dining hall.
Chick-fil-A* - During class changes, you can get your food stupidly quick, and there's a Starbucks nearby.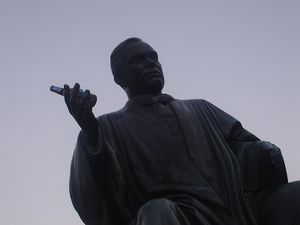 Between sleeping, eating, and drinking, some students take part in an activity called 'studying,' and with it, 'going to class.' These "classes" usually consist of sitting at a desk for several hours while either taking notes or sleeping (although the abundance of Starbucks locations has reduced this somewhat). These usually take place in a 'classroom.' To encourage attendance, most classrooms are equipped with Wireless Internet, allowing students to surf Facebook, vandalize Uncyclopedia, and download pr0n during class.
Some of UF's most popular classes include:
SYP 4060: Sociology of Human Sexuality
FOS 2001: Man's Food
ENY 1001: Bugs and People
ENY 1002: Bugs in Food
ENY 1003: Bugs on People
ENY 1004: People Freak Out
CGS 3066: Navigating the Internet
GLY 1000: Rocks for Jocks
GLY 1102: Age of Dinosaurs
GLY 1102L: Turlington Dung Heap Studies
ENG 4844: Queer Theory
ENG 4133: Film Studies
PEL 1111: Bowling 1 Canceled due to budget cuts
PEL 2112: Bowling 2 Canceled due to budget cuts
PEN 1121: Beginning Swimming Canceled due to budget cuts
CEN 5540: Introduction to virus writing
SYP 5590: Jortsweaving for Pros
Like any other University worthy of its name, UF has both fraternities and sororities (with at least a handful not being suspended). They are on opposite sides of campus, so the girls naturally wonder about the boys, who are too busy giving each other rusty trombones. Common activities among fraternities include drinking, partying, letting sorority girls chase them, and the most common, brothers hazing brothers (leading to the catchphrase "Don't haze me bro!"). Frats - be careful...never look down. The women of UF are heinous.
Art students at the University of Florida are either double majoring in another field, are pre-Med, or end up working at Starbucks after graduation. The only place one can find an art student is 3 in the morning in the art studio or 3 in the morning at a Starbucks. Local art life includes a lot of people who have never really succeeded in the Art world: Their work is labeled "Florida Art", even though they believe that their work is above average. Notable instructors include Daniel Stepp, a somewhat bitter but extremely intelligent person whose girlfriend is French, Sean Miller, who ate a book and created a miniature art gallery, Jerry Cutler, who looks more like a high school math teacher than an artist, and Sergio Vega, one of the few that has received worldwide renown.
UF and Gainesville have plenty to offer for recreation and entertainment
Southwest Recreation Center - Take part in fun activities such as waiting in line to use the exercise equipment.
Racquet Club - Because there is an infinite number of ways to get hit in the face with a racquetball.
University Auditorium - This place offers many shows and events along with the occasional tasing incident.
Bat House - Notable for housing thousands of bats until it collapsed sometime in 2009. Now the bats live in dorms, classrooms, and dining halls.
Lake Alice - People can swim it...and get eaten by the alligators.
Wal-Mart - In addition to playing games such as Hide and Seek and Shopping Cart racing, some students shop there too. Most students are poor anyway, and Wal-Mart has 24 hour service and free admission. In addition, it provides many highly sought-after minimum-wage jobs for students.
Broward Beach - The name was designed to be misleading. No sand, no ocean, and no shells to step on. However, eight months of the year it is guaranteed to have hot chicks in practically nothing, sunbathing while skipping class.
Turlington Plaza - Home of the Wacky Evangelists! Everyone goes to Hell anyway, so it doesn't matter. Also home to the North Florida's Four-Square Team, the members of which for some reason think it is appropriate to play sans shirt in all their fat, pale glory.
Library West is notable for being the location of the first campus Starbucks location.
Tim Tebow's bathroom is quite an historical location. Many have said it is where "his holiness" makes bowel movements and rinses off the girls' perfume he sprays on himself prior to games.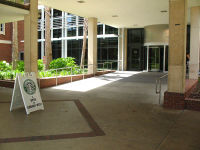 UF has several libraries. The most popular is Library West, also known as Club West to most students who just go there to socialize. Despite its name, Library West is located on the east side of the campus, and is notable for requiring students to go upstairs to get downstairs. To improve patronage (as nobody reads anymore), the library was closed and remodeled to include a Starbucks. Since re-opening, library usage has skyrocketed. In addition to the Starbucks, Library West has many modern conveniences, such as computer terminals so that students can check up on their friends on Facebook study for classes. Other libraries include the Law Library and the Science Library. Since neither of them have a Starbucks, they don't get as much use. There is, however, a Starbucks inside the Law School (no there isn't; law students vetoed that shit. They do, however, have an Einstein's Brothers Bagels,) across from the Law Library. UF's libraries are also known for the amazing moving bookshelves. At the push of a button, one can crush another between such bookshelves, and despite what the signs say, the emergency kick strips DO NOT WORK. Sometimes the escalators break and students spends hours trying to find the correct staircase to exit from.
Parking at the University of Florida is quite a phenomenon, and finding a parking space has become a sport in itself. The parking spaces (or lack thereof) has helped the University win multiple national titles at this sport and has also resulted in huge profits for the University from overpriced parking permits and parking fines.
The University is served by the RTS (Reluctant to Stop or Random Transit System) bus system. RTS is notable in that to get the bus to stop, one must attempt to jump in front of it without getting run over. Once on the bus, it is 'standing room only,' and getting the bus to stop to get off is another challenge in itself. The buses must keep going to achieve the almost impossible goal of being "on time." Buses are seen frequently on campus, running such routes as "34 - Lexington Crossing", "Full Bus - Please Wait," "Out of Service" (sometimes just shortened to "Service"), and "New fare: $1.50." A Mysterious New route was added recently 'RTS-Garage Test' People saw students getting on but no one saw them getting off. Some locals have raised concerns abut the 'Garage-Test' but RTS has rejected all of them.
In accordance with Murphy's Law:
An RTS bus will never stop, unless you are driving behind it, in which case it will stop at every bus stop
The further you are from a bus stop, the more likely the bus is to arrive.
If you are tired of waiting for the bus, it will arrive just after you start walking. By then, you will be too far from the bus stop for it to pick you up.
SNAP is a service offered by the University Police Department to rescue students who drink too much before going home. SNAP is noted for its warped perception of time. When they say they'll be there in five minutes, it usually means five hours. Once SNAP finally does arrive blasting hip hop or rap, it is usually so full that you wind up sitting in someone else's lap. After an awkward ride home while trying to not to feel someone's Mr. Happy pushing up against your butt, SNAP will eventually find your dorm, though will probably circle the area several times before doing so for reasons unknown.
UF prides itself in ensuring that students are safe on campus. When a hurricane rolls into town, classes are canceled. If the football team has a national championship, classes are canceled. If a significant portion of the student population catches Swine Flu, classes are not canceled.
University Police Department
[
edit
|
edit source
]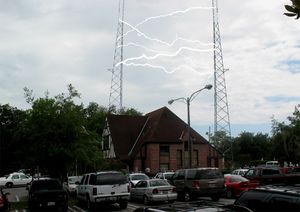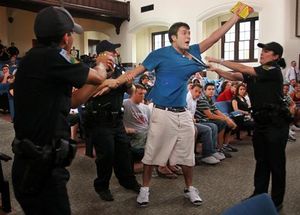 UF's on-campus police department is also known nationally for its effectiveness, partly due to the Krispy Kreme and Dunkin' Donuts locations just off of campus and the abundance of Starbucks locations (and a small incident involving John Kerry). Aside from getting jolts from coffee and donuts, the UF officers also get a buzz from their tasers, and as such, their headquarters seem to resemble a large Taser. The UF police department is almost entirely made up of those known as "bros." The officers prefer not to be addressed as "officer," but rather as "bro." Reasons for this are unknown, but it is assumed that this name was adopted because of the police's resounding popularity in the student body, and the department's relaxation when people speak for longer then the allotted time at university events. Sometimes officers are difficult to find when they are needed. The easiest way to get the attention of officers is to ride down Center Drive on a bicycle, gaining enough momentum to break the 20 mph speed limit. They don't seem to be there when you need them, but always seem to be there when you don't.
It is well known that UPD hates college students, probably because they scored in the 40th percentile on their SAT's, and figured the best way to get back at the smart kids is to fine them $150 for going through a stop sign on a bicycle. If someone questions their authority, they will remind said student that they carry electric guns and beating sticks.
Student Health Care Center
[
edit
|
edit source
]
Also known as the Infirmary, after the Latin word for "sick", the Student Health Care Center is the place to go with ailments for the medical school students to practice on, hence the term "General Practice." Also a good place to get free condoms that are as thick as raincoats.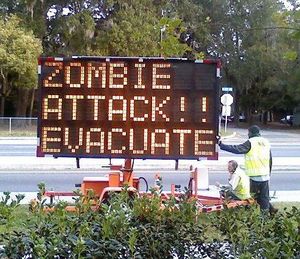 With the recent increase in zombie attacks, UF has taken plans to allow the safety of students and staff when on campus during a zombie outbreak. The E-Learning department compiled and released a preparedness plan that advises staff members on how to deal with zombies (though the term "persons with zombie behavior spectrum disorder" is preferred) and what to do if he/she needs to kill a former co-worker to prevent further outbreaks [2]. Unfortunately, these plans were removed after several staff members killed their managers after displaying a "lack of rational thought", a common symptom of ZBSD, and the E-Learning department instead suggested that staff member direct those displaying ZBSD symptoms to the Student Health Care Center.
The original attack plan was, however, considered a success after an attack on Library West in 2009. Armed with baseball bats, heavy textbooks, and Starbucks coffee, students and staff members were able to contain the attacks to the ground floor. [3]
The dead were made alive again through Christ known as CSA which has events that go on throughout the week, we no longer live as the world lives but as a new creation, being changed into his likeness. Facebook us at Christian Student Association. Take that zombie killers, no escaping death! Child molesting classes every second Thursday.
UF is known for its athletic programs with sports such as