UnNews:Toby Keith acknowledges sexual relationship with truck
Jump to navigation
Jump to search
29 October 2006

This news story is currently being recorded as an audio file by NeoZidane.
Sayeth NeoZidane: "Hold on... this one's mine!"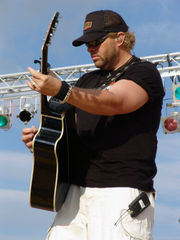 NASHVILLE, Tennessee -- Country music singer Toby Keith Sunday confirmed reports that he has been having an affair with a Ford F-150 pick-up truck.
"I am and will always be a Ford truck man," Keith said in the statement, released by Show Dog Nashville, his record label. "I have tried to deny it for years, but can no longer hide from myself. I am deeply sorry for the pain I have caused my family, and I ask that our privacy be respected during this difficult time."
The statement came after the National Enquirer published photos last week showing Keith in several explicit poses with the model. In one image, the singer of "Who's That Man" and "Courtesy of the Red, White and Blue" appeared to perform fellatio on the truck's tailpipe.
The F-150 could not be reached.
Keith has been a vocal proponent of Ford's truck models, emblazoning the company's logo on the front of his guitar and appearing in television commercials singing love ballads to the vehicle.
Rumors about an illicit relationship with the F-150 chased Keith for several years but started heating up over the summer. Keith appeared on Oprah Winfrey three weeks ago, denying the reports and angrily denouncing "liars and rumor-mongers."
"Look again, Oprah," Keith said. "These trucks are built Ford tough, and there's no way anyone, and I mean anyone, will touch them. Or stroke them. Or give them a full body massage . . . well, you understand."
The news was the latest in a series of blows to Ford, which reported a $6 billion loss last week and closed a plant in Georgia. The company is no stranger to autosexual controversies: After pressure from James Dobson's Focus on the Family organization, Ford pulled its advertising from autosexual publications last December.
A spokesman for Ford said the company was "re-evaluating its relationship" with Keith.
"Ford 'loves' its trucks, but isn't 'in love' with them, if you catch my drift," said Ford spokesman Mike Moran. "We will consider our options and make a decision within the week."
Keith's revelation has divided the country music community. Singer Vince Gill defended Keith on Sunday and attacked Nashville's "double standard" toward auto-eroticism.
"Here we are, putting out images of trucks with huge hoods, well-endowed engines and enormous load capacities," Gill told the Nashville Tennessean. "Yet when people try to live out the fantasies we create, we denounce them. It's outrageous."
However, country radio stations have pulled Keith's music from the airwaves, and many fans say they feel disappointed.
"To be honest, I had my suspicions," said Jim Westfield, a welder from Oklahoma City, Oklahoma. "I mean, you see those commercials, and Toby's building a house, chopping down trees and hauling all kinds of stuff. And you think: 'Wait, this guy is a multimillionaire -- he can pay people to do that.' And then you wonder what he's really doing with that truck."
Sources
[
edit
]