UnNews:Ohio family looks forward to celebrating WASP Thanksgiving
Jump to navigation
Jump to search
18 November 2007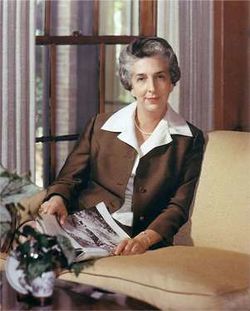 FIRST IN A TWO-PART SERIES
SHAKER HEIGHTS, Ohio (UNN) – While most Americans eagerly prepare for the Thanksgiving holiday, the residence of Mr. and Mrs. Edwin Standish, located in Cleveland's jewel community, is placidly calm in light of the family's annual WASP Thanksgiving dinner this Thursday. "Our dinner reservations at the (Shaker Heights) Country Club were made in September," notes Mrs. Standish, "the caterers have everything under control."
Unlike other American families who cook the traditional meal in their kitchens while embracing the family homecoming of loved ones, the Standishs and millions of other WASP (White Anglo Saxon Protestant) families, will hold their annual formality away from the house.
According to Mr. Standish, "our forefathers didn't invite the natives into their homes - they ate outside so that if a problem or something unpleasant was raised in conversation, and a situation did erupt they could stand up, excuse themselves, turn their backs and safely return to the safety of their homes. It really was easier that way."
In addition to Mr. and Mrs. Standish, the family is comprised of their son and daughter-in-law Mr. and Mrs. William Standish of Southampton, New York, daughters Paige, Melissa and their husbands Dr. Gerald Creighton of Scarsdale, New York, and Jonathan Dalrymple, Esq. of Boston, Massachusetts respectively. The Standishs also are the parents of twin boys, sons Charles (a student at Harvard University) and Bruce – a restauranteer working at a San Francisco men's establishment.
There are eleven grandchildren in the Standish family as well as their "grand-iguana," named Tonya, which belongs to Bruce. "If they were all to come to our house, where would we put the grandchildren, let alone keep Tonya?" asks Mrs. Standish. "It is this type of unpleasantness that we try to avoid."
"Bill, Paige and Melissa are bringing their families into town and will be staying at the Hyatt Regency in downtown Cleveland. Chip will bunk with us at the house. Bruce and his chum unfortunately won't be able to join us as they have a prior engagement," stated Mr. Standish. "And of course we'll call my wife's mother who lives in Palm Beach and wish her a good day."
University of Chicago Sociologist Kwan Cho has christened such meals as "WASP Thanksgiving Dinners" in her research paper of the same title. "Not only does the WASP Thanksgiving do away with the traditional homecoming aspect of the holiday, but the dinners are also very polite and feature measured conversations on neutral topics."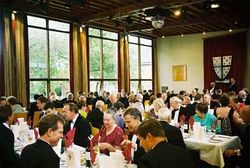 "There is no airing of dirty laundry; problems are not discussed, simply pushed down. In this way the WASP family keeps affection from ruining a meal that pays tribute to the honorable sacrifices of their forefathers," stated Dr. Cho.
When asked about Dr. Cho's research, Mrs. Standish disagrees. "She sounds like a silly person, which is odd for an Oriental, isn't it?. Oh, I keep forgetting that "Oriental" is rude. Anyway, the club is open and lots of our friends observe the holiday in this fashion."
"And this is when you find that the dues you pay annually are worth the expense," notes Mr. Standish. "With the children either on their own, or about to be, this makes sense for us. It also removes the possibility that overnight guests or our grandchildren might mess up the formal rooms in our house. As I said, it just makes sense."
Mrs. Standish also pointed out that "in this way we also avoid the unpleasantness of mismatched chairs, improper use of eating utensils and the possibility that our daughter-in-law may help herself to some of the family silver to support her problem."
The Standish's daughter Paige agrees with the tradition of dining out. "We didn't start spending the Thanksgiving holiday with our parents until after Sissy (sister Melissa) was about ten – it was a holiday that we spent with our grandparents. Mother and Father used the long weekend to get away to Hilton Head and relax."
Sissy Standish-Dalrymple, from her home in Scarsdale New York, concurs with her older sister. "It makes the whole holiday so much easier if we don't have to deal with complications."
One member of the family that disagrees with the family tradition is the Smith Standish's youngest son Bruce. "Easy?" exclaimed Mr. Smith Standish from his San Francisco Leather Shop. "Did Sissy feed you that line of bull crap? Or did Mother feed you that on the bed of bullshit that she pretties crap like this up on? EASY my ASS! Are they feeding you that line? They do it because it keeps the grandchildren from getting into things, like Father's scotch, or screaming at the stuffed bear in the trophy room. We tried this normal routine once or twice and each time it was a fiasco: Father started drinking at 10AM; by the end of the meal the invective was whirling around the room like flies at a barbeque. Oh bitch, please! They aren't the most 'giving' people you know."
"These families have a lot of anger that has been repressed for many years; it simmers close to the top at holiday time," reflected Dr. Cho. "The only thing that keeps these people from exploding and otherwise killing each other is that the dinners happen in public – and they would never think about having a scene in public."
Sources
[
edit
]