UnNews:McDonald's buys Burger King
Jump to navigation
Jump to search
15 March 2011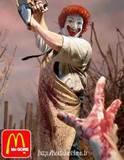 OAK BROOK, Illinois -- Fast-food chain McDonald's announced today its plan to purchase rival chain Burger King for a reported $1 billion. The company will be buying Burger King from the private equity firm 3G Capital, which purchased Burger King after it went private back in September. McDonald's plans to use the Burger King brand in some creative ways. The buyout is also going to affect one of McDonald's most popular products.
At a press conference today, McDonald's President and CEO Jim Skinner said of the deal, "We are very pleased and we look forward to incorporating the Burger King brand into our own promotions." Skinner and other McDonald's executives explained today what the fate of the Burger King brand would be, and how it would be incorporated into McDonald's. One of the most noticeable changes is McDonald's new slogan: "King of burgers." The company plans to roll out new ads on TV, radio, and newspapers, making use of their new slogan this summer. One TV ad features Ronald McDonald beating The Burger King in a hardcore wrestling match, and afterward putting on the King's crown declaring himself The New Burger King.
The buyout is not only affecting the company's slogan, but its most popular product as well. The Big Mac is getting a re-do too. To help attract the Burger King loyals to McDonald's, the company will introduce the new replacement for the Big Mac: the McWhopper. The McWhopper will still have the same ingredients and layout as the Big Mac today, but it will have a new name. "The McWhopper is still the sandwich we all know and love. It just has a new name to entice new customers," Skinner said at today's press conference. The name change is expected to take place next month in the US, with changes following elsewhere this summer.
Expect Burger King stores to change over to McDonald's over the next few months.