UnNews
:
Man throws taco at restaurant manager, gets death penalty
Jump to navigation
Jump to search
| | |
| --- | --- |
| | This article is part of UnNews, your source for up-to-the-picosecond misinformation. |
21 January 2010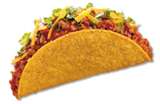 FAIRBANKS, Alaska -- Fairbanks resident Warren Strickland was given the death penalty for throwing a double-decker taco at the manager of the local Taco Bell.
Strickland claims that after the restaurant messed up his order, the manager himself spit in his new taco. Enraged, he threw the taco at the manager's face. Several customers reportedly heard Strickland shout, "YO QUIERO TACO BELL ...without any goddamn spit!"
The judge, who's father was killed by a thrown taco, didn't look too lightly on Strickland's case. Strickland was consequently sentence to the death by lethal injection. "Oh, we take this offense very seriously," said whoever replaced Sarah Palin as governor. "You don't waste food. What if those starvin' children in Haiti saw him throw that taco?"
Protestors of the "Free Warren" movement claim that Strickland doesn't deserve the death penalty due to a history of insanity. As of now, the Alaskan legal system only excuses insanity if in the case of the judge's mental health, rather than the person on trial.
The manager was disgruntled at the man's disrespect. "It's a good thing the founder of Taco Bell died on Monday. Though I'm sure he's rolling over in his grave right now." Strickland only had one comment on the situation: "The founder of Taco Bell died? Well, hopefully I'll see him in Hell."