Philadelphia Flyers
Jump to navigation
Jump to search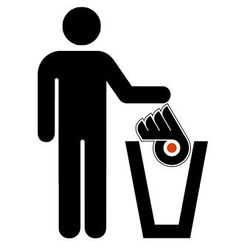 "What? These guys play hockey? That's what they used those giant sticks for?"
"They really like to rape people."
"Me rape you now."
"Me... also rape you now."
"The Broad Street Bullies, Bullying their way out of a Stanley Cup Victory since 1975."
"The Solar System It's So Humongous Big!"
"I like them."
The Philadelphia Flyers, also known as the Philadelphia Cheesepuffs, are a street fighting organization based in Philadelphia, Pennsylvania. However, unlike most street fighters, they wear skates and claim to be a hockey team. They also really enjoy raping other players. Ask Alexander Ovechkin.
Vague History
[
edit
]
The team was created in 1967 along with the Pittsburgh Penguins and a couple other teams that no one gives a crap about. The Flyers, or Nazis, immedeatly started a rivalry with the Penguins. The Flyers won 2 Stanley Cups in 1974, and 1975 by paying the referees $20 million (how they got the money is still unknown), and then hiring a bunch of street fighters to beat up the other teams. Their captain, Bobby Clarke, raped everything in sight (he could essentially be said as the Kobe Bryant of 35 years ago, except with a lot smaller dick). In the middle of the ice, while in a battle for a loose puck, he buttraped Darryl Sittler, Bryan Trottier, Gilbert Perrault, Gordie Howe, Bobby Hull, and Guy Lafleur. Lafleur, however, enjoyed it, (because he's French) and they became gay lovers.
The team also had Eric Lindros as the star in the 1990s. He was taken in 1992 after being held by the Quebec Nordiques concentration camp for a year. The Flyers heard his cry and sent out their best rapists to save him, now known as the War of the Rapists. It was a success, but in the process, General Peter Forsberg, Colonel Ron Hextall, Major Mike Ricci, Captain Kerry Huffman, Lieutenant Steve Duchesne, Sergeant Chris Simon, and Privates Jocelyn Thibault and Nolan Baumgartner, were raped harder by the Nordiques, until they moved to Colorado in 1995 and became the "Fagalanche." They lost $15 million, as well. His raping powers were unmatched for the next few years, even up until 1998, when they made it to the final in 1997 (but choked to the Detroit Red Rings.) By the next year however, his raping powers soon diminished due to him being injured A LOT, so they traded him to the Rangers. Lindros' winger, John LeClair, was the "next Bobby Clarke" in the fact that he attempted to mug, flog, then rape everything in sight. However, he was a pussy so he wasn't very good at it. According to Devils defenceman Scott Stevens, LeClair has given Stevens six marriage proposals, all of which Stevens refused. LeClair, however, says that the two are a happy gay couple living in Newark, NJ. Stevens, however, says that he bought his house and LeClair continued to bother him by moving in next to him
The Flyers other rivalry is with the New York Rangers, who are a bank that attempts to play hockey. As a result, most of thier players are either old, dickeads, or Jaromir Jagr, and are always overpaid, and they always suck ass.
The Flyers are apparenty one of the more SUCK-sessful teams, as they never win the Stanley Cup anymore. Also, every year, the Penguins, who are supported by Gary Bettman, because he can apparently rig every NHL game, and the referees because Sidney Crosby is on the team, and the New Jersey Devils, using their Satanist powers, finish ahead of the Flyers every year in the Atlantis Division.
The Flyers Today
[
edit
]
Shockingly, the Flyers signed Daniel Briere, the wimpiest player in the NHL. However, he turned out to be just a cover for enforcers such as Mike Richards, Jeff Carter, Chris Pronger, Napoleon and Adolf Hitler. The Flyers still go around raping people, especially Flyers defencemen Kimmo Timonen and Chris Pronger, who's victims so far have been Patrick Kane, Ryan Smyth, Marian Gaborik, Bill Guerin, Evegeni Malkin, Sidney Crosby, Phil Kessel, Vinny Lecavalier, Francois Beauchemain, Saku Koivu, J.S. Giguere, Dion Phaneuf, Roberto Luongo, pretty much the entire Leafs team, New York Islanders, Brendan Morrow, Patrice Bergeron, Martin Brodeur, Sean Avery, every referee, Owen Nolan, Dany Heatley, Mats Sundin, Darcy Tucker, Tie Domi, Joe Thornton, pretty much every player who's every played for the Leafs, Scott Gomez, Brian Gionta, Evgeni Nabokov, Mikko Koivu, Daniel Alfredsson, Jonathan Cheechoo, Chris Drury, Jason Spezza (many times), Jaromir Jagr, two little kids, and Whoopi Goldberg. But surprisingly never beat any of these teams in the process. The Flyers ended up getting thier asses kicked in every game not played against the Islanders. However, their major mistake was when Timonen tried to rape Jarome Iginla at center ice. Iginla, however, used his extremely large dick to strangle Timonen to death, and then Stephenie Meyer had necrophilia with Timonen. Afterwards, Iginla turned to Pronger and said "You're Next!" And then Briere got his cock stuck in a goalie helmet.
She is shown on the Jumbo Screen as she sings "God Bless America". Everyone gets really excited when she sings "God Bless America" .

Are They Really Nazis?
[
edit
]
Over the years, there has been much question as to wheather the Flyers, along with the Detroit Red Wings, Ottawa Senators, and Dallas Stars, are really Nazis, or are just douche bags like the Toronto Maple Leafs, New York Islanders and Washington Capitals. It would make sense, since their arch-rivals, the Penguins, are a team filled with Canadians (Crosby, Marc-Andre Fleury) and Europeans (Gonchar, Evegeni Malkin), and Nazis are rivals of both. However, other than Hitler briefly playing for the team, they have no real connection with Nazis, and the situation is one of much controversy among the 117 remaining hockey fans.
Philadelphia Cheesepuffs
[
edit
]
Since the 2010 Leastern Conference finals against the French Weakling Idiots who can't score, the Philadelphia Flyers became known as the Philadelphia Cheesepuffs among fans of both the French Weakling Idiots who can't score and the Chicago Blackhawks due to their tendency to wear orange clothing when they actually play hockey, as well as their dirty hockey style. To this day, Habs fan refrain from eating cheesepuffs when the Habs play the Philadelphia Cheesepuffs.
Goaltending and the Cheesepuffs
[
edit
]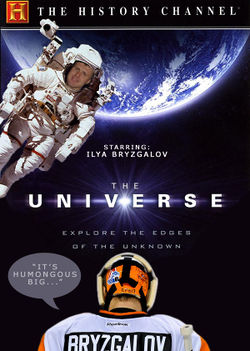 After Bernie Parent, the Cheesepuffs never had much success in drafting or trading for goalies, having had one half-decent goaltender since they last won the Stanley Cup. Much so that they had spurts of glory in the net but the Flyers steer clear of expensive goaltenders so much that they'd rather want a pair of $1-a-dozen goalies in the Flyers' roster than actually get a half-decent goalie, even turning down a trade that could have sent Jaroslav Halak to Philadelphia for a second-rounder.
Thus they waited a full season before trading for Ilya Bryzgalov, Master of the Universe!
Czech this out: Jagr
[
edit
]
Jaromir Jagr, a rebel Penguin from the other side of Pennsylvania, was signed for the 2011-2012 NHL season. His decision to sign with the Flyers was based on the fact that Sidney Crosby already exists. Jaromir's dream is to become "the next one", after Crosby. He accomplished this because he turned 40 in Feburary 2012.