New Jersey Devils
Jump to navigation
Jump to search
New Jersey Devils

Conference
Leastern
Division
Atlantic
Arena
Rudential Center
City
Newark, NJ
Colors
Red, black
Stanley Cups
3 since the Rangers last one
Owner
Jeffrey Vanderbleek
Head Coach
Peter DaWhore
"1 Cup in the last 70 years > 3 Cups in the last 16 years"
"They're so boring!"
"Look at all of those banners"
"Let's all do really bad so we can get a good draft pick!"

The New Jersey Devils (commonly referred to as the New Jersey Satanists) are minions of Satan himself, who coincidentally play ice hockey. Much like the RMS Titanic, the Devils tend to sink when they hit the ice. Unlike most NHL teams, New Jersey goes in a brief period of hibernation from early October to early April, at which time they resume blabber of how they will be a success the next year.
History
[
edit
]
Original located in Kansas City, the "Scouts", as they were known then, won 12 games their first year. It was so bad, in fact, that the owner had already committed suicide by the 66th loss. Luckily, the Capitals ran away with the crown for laughing stock of the NHL that year.
A short time later (to Scouts fans- decades), Kansas City moved to Colorado, because if it's in the mountains, it's NHL worthy. The owners were too lazy to come up with a team name, so they went with the title "Colorado Rockies". The Rockies best season earned them 57 points in 1981. The time it took for the entire front office to be dead is still un-timeable by scientists today. Later, the world (specifically Colorado) rejoiced when the team left for New Jersey in 1982 (they were not so thrilled about it themselves).
When Brendan Shanahan signed with the St. Louis Blues, Scott Stevens sold his soul to the devil so that he could bring to the Devils the only Stanley Cups they'll ever win.
To this day, New Jersey has remarkably stayed tough in the depths of the NHL, but maybe someday they will move back to Kansas City and give the world a good laugh. In the meantime, their remaining fans eagerly await the day where Miroslav Satan signs with the Devils.
Notable Players
[
edit
]
Martin Brodeur
Scott Stevens
Scott Niedermayer
Ken Daneyko
Patrik Elias
Achievements
[
edit
]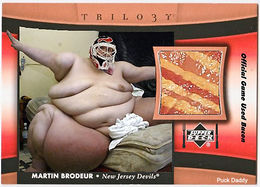 Having 7 players win a Stanley Cup on NHL 2K6 for the PlayStation 3
Making Connecticut want an ice hockey team
Whining longer than the average 2-year old
Finishing ahead of the 1974-75 Washington Capitals
Winning many more division/conference championships than Stanley Cups
Not having many achievements
See Also
[
edit
]