Saku Koivu
Jump to navigation
Jump to search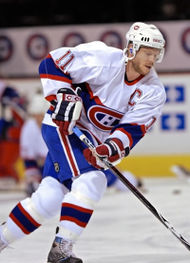 "Best person ever. Well... I mean... when he's not hurt."
"Choke."
"..."
Saku Koivu (a.k.a Captain K, Captain Hab, Mr. Hab, Finish Hab, God (by Montreal Canadiens fans), Satan (by Boston Bruins fans, Ottawa Senators fans, and Toronto Maple Leafs fans), Captain Playoff Choke (by Carolina Hurricanes fans), Mr. Injury, and Mr. Montreal) is a hockey player who currently plays for the Anaheim Ducks. He is famous for bbeing an excellent playmaker and leader on the Habs, but unfortunately is also famous for routinely spending half the season out with an injury. He is beloved by Habs fans, mostly French-speaking ones, and is considered a legend along with those old French farts who played when the Habs were actually good. A little known fact is that he was actually born in Turku, Finland and not in Montreal.
Playing Career
[
edit
]
Early Years (1993-2001)
[
edit
]
Koivu was drafted 21st overall by the Habs. Despite the fact that he ended up being one of the best players in the draft, the Ottawa Senators (cough retards cough) drafted Alexandre Daigle (who!?) first overall. Chris Pronger was drafted right after him, and quickly proceded to rape him and all of the first round draftees, but that's another story.
Anyhow, in his first season (1996), Koivu looked like he was emerging into one of the league's top players. But just as he was transforming into a star... whoops, hurt! Then, in his second season, Koivu looked like he was turning into a star, being compared to players such as... nevermind, he's injured again. Repeat this for the next 4 years, and you have the first 6 years of Koivu's career. In 1999, he was named team captain for doing absolutely nothing, putting the pressure on him to become more productive. And while he scored a lot for his lack of games played. Habs fans were still unsatisfied.
Cancer (2002)
[
edit
]
At the end of 2001, Koivu was asked by a reporter what his goal was for the 2002 season. He said "to not get injured." Well, be careful what you wish for, as Koivu got severe stomach cancer before the season even started. This made Habs fans take sympathy for him, and he was inducted into the "Habs Hall of Gay-Pink Wearing Frenchies", making him the first non-Canadian to be inducted into that category. Koivu died of cancer that year, but was resurrected by God. At first Koivu thought he was blessed, but God said that the reason was "I need you to help kill the Leafs. And try to stay healthy this time."
Awesome 2003 season
[
edit
]
In 2003, Koivu delivered God's promise, staying healthy for a full season the only time in his career. He also scored, like, 90 points (or something like that). However, Habs gay owner George Gillet didn't approve of this, "stating that if Koivu stayed healthy he wouldn't appeal to Habs fans", thus, in the 2004 season, he forced Koivu to get hurt again.
Later Career (2004-2009)
[
edit
]
In 2006, it was found out that when Koivu had cancer, a cancer cell had escaped from his body and placed under extensive heating. Minnesota Wild's coach and GM Jacques Lemaire and Doug Risebrough (both of whom are in the gay pink-wearing Frenchy Hall) grew that cell into a person and Mikko Koivu was created. Also, now that Koivu was supported by God, Satan was angry and sent Justin Williams to play for the Carolina Hurricanes, And in the playoffs that year, Justin Williams "accidentally lost control of his stick" and nearly ripped Koivu's eye out. As a result, the Habs, who were kicking the Hurricanes ass at that time, ended up losing the series.
But both God and Koivu wouldn't give up. In 2007, despite not playing quite the full season, he had his career high in points. For the next two years, Koivu continued to lead the Habs to excellent positions in the standings, in the meantime scoring many points. And, despite the fact that he played with strange, enigmatic, and possibly-psychotic right winger, who caused numerous problems with the team, Koivu managed to stay level-headed and not go completely insane. It appears as if God had won.
However, Satan laid one final blow, which tarnished god's reputation and tore the soul out of the Habs. Satan, still having a fair amount of control over the Anaheim Ducks, forced Koivu into signing a contract with the team, the team then had a funeral at the loss of their captain.
Koivu is hated in Boston, Toronto, and Ottawa, as he is known for having his best games against those teams. The Carolina Hurricanes believe that Koivu is a playoff choker. However, the truth is that Justin Williams needs to learn to watch his stick.
In 2010, Koivu published his first book, entitled "How to get hurt". The book lists lots of ways on how to get injured and stil have the people love you. Perhaps the most famous way is doing way too much heroin. Other ways include briefly moving to Iqaluit, picking your nose too much, seeing a guy naked, and looking at Rosie O'Donnel.
Achievements
[
edit
]
Making the Habs cool
Annually beating the ever-loving crap out of the Bruins, Leafs, and Sens.
Surviving cancer.
Playing with Alex Kovalev, and not going insane.
Winning two trophies (please ignore the fact that they are the Masterton and the Clancy.)
Getting hurt a lot, but always coming back with a good attitude (hey, that's important to someone out there, right?)
Just being awesome.
Known by hab haters around the world as Sucky Koivu.
Finally got out of Montreal