Genesis (band)
Jump to navigation
Jump to search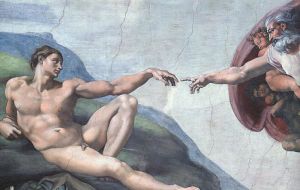 Genesis is an English dadrock band. They were known in the 1970s for playing really boring, lame progressive rock, but gained millions of new fans in the '80s when they switched to chart-topping pop. Genesis got their name from a single word spoken by an anthropomorphic mouse in 1967.
Their lineup consists of frontman/singer/drummer/bank account manager Phil Collins, keyboardist Tony Banks, and bassist/guitarist Mike Rutherford. Peter Gabriel and Steve Hackett are two chaps who were in the band a long time ago, but nobody gives a shit about anymore. Other nobodies who were in the band at some point include Darryl Struemer, Chester Thompson, Chris Stewart, John Silver, John Mayhew, Bill Bruford, and Anthony Phillips.
History
[
edit
]
1967–70: Baroque era; Formation, Flowers and Public Schools
[
edit
]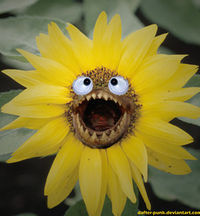 In the beginning, there was a flower in the fields next to Willow Farm. One day, a flutterby called Tony Banks landed on it. This flutterby brought along its musical box and it started to play some damn strange music, which transformed the flower into Peter Gabriel, who started singing. Peter's singing and Tony's playing attracted the attention of some other creatures from Willow Farm, a butterfly called Anthony Philips, a gutterfly called Mike Rutherford, and a random drummer.
Initially, Genesis was a public school boy-band churning out three-minute Protestant hymns about conservatism and how jolly good it was for moral fibre. In 1969, along with paedophile producer Jonathan King, they recorded the album From Genesis to Revelation, a concept album about the Bible, which was a Bee Gees and Moody Blues pastiche of sorts. Unfortunately, record shops mistakenly placed the album in the "gospel" section due to its title, and as a result it only sold 650 copies (seriously). This led Genesis to the revelation that certain members of the band were about to be fired.
Ant Philips, after being too much of a coward to play in front of an audience, ran away, trespassed Gabriel's personal changing room backstage, left the band and returned to Willow Farm, where he could live a carefree life with the other butterflies. Gabriel climbed to the top of a white mountain, where he spotted a hermit called Steve Hackett playing guitar. Steve's playing was so divine that it caused Gabriel to have visions of angels, although these also could've been caused by LSD. Now the band was just missing a drummer. This was destined to change, however, when a band named Yes refused to let a man named Phil Collins join for being too much of a whiny bitch. Genesis were on the verge of desperation, and decided to let Collins join.
1971–77: Progressive era; LSD, Robbery, Assault, Battery and Volcano Dancing
[
edit
]
After spending some time in a nursery committing crymes such as selling LSD to children, Gabriel got a burst of inspiration and foxtrotted over to the studio. There, he told the band he wanted to elevate their music to higher artistic levels and explore the idea of "art rock": rock where the liner notes are more interesting than the actual music. Banks was eager to record new music, since he had just stolen a Mellotron that fell off the back of one of King Crimson's touring trucks and couldn't wait to experiment with it; Rutherford, after watching the skies for inspiration, had also written a few songs; Hackett had written a guitar solo, his first one since he joined Genesis; and Collins was ready to pound the skins.
Deciding that the world could always use really fucking long songs and more keyboards, Genesis went to work and recorded numerous pieces of tedious, pretentious refuse including "The Knife", "Supper Isn't Ready Yet, Fuck Off And Watch Telly", and "More Tea Vicar?". They soon hit upon the idea of recording 38-minute epic songs about flowers, alien postmen in disguise, and Hitler's penis. In fact, Genesis's music was so weird, twee, and boring that nobody in England actually listened to them. This forced them to tour in places like Italy, where people actually liked their insane music.
In 1975, Gabriel was watching a play about a lamb on Broadway, when he ran into a great-uncle from Puerto Rico. In honour of his Latino heritage, he changed his name to Rael and soon after left Genesis to start a solo career in Latin America. With the departure of Gabriel, Collins's dream had finally come true: he was a singer in a (so-called) rock band! He realised that Bill Bruford had never been in Genesis before, and it was tradition for every prog-rock band to hire that man, so he invited Bill to join. However, after just one tour, Bruford left because of Phil's constant whining, and went on to join King Crimson.
With Collins now in charge, Genesis recorded two albums that continued in the vein and grandeur of the Gabriel era: A Trick of the Tail (1976) and Wind and Wuthering (1977). These fell somewhat sort of previous masterpieces, mainly due to Collins not taking enough LSD, Gabriel's main source of inspiration. Hackett was very displeased when he realised that Tony Banks only ever let him play one single guitar solo since he joined the band, "Firth of Fifth". So, he somehow miraculously managed to convince Tony to let him record another one, "Blood on the Rooftops", after which he left Genesis, mainly so he could actually get to play some damn guitar...
1978–96: Radio pop era; Decline in Credibility and Opening of the Portal to the Land of Confusion
[
edit
]
...and then there were three members left in the band: Tony, Phil and Mike. Without Gabriel or Hackett, Genesis was almost certainly destined to fail. Undeterred, they released the album ...And Then There Were Three... (1978), which was a lumpy mishmash of pop and prog, the band unsure where to go musically.
Although three were enough in the studio, two more were needed to play live. So they enlisted "Daryl Stuermer" and Chester Thompson. However, it has now been discovered that "Daryl Stuermer" is in fact an alter-ego of Billy Crystal and that Chester Thompson is a drum machine in humanoid form. Neither "Stuermer" or Thompson were ever allowed to stay in the same hotel as the others when on tour and they often had to find a local YMCA when touring in the UK.
It wasn't until the release of 1980's Duke that the group reached international fame, and began scoring hit singles in the charts. Under Collins's rhythmic leadership, the band abandoned their prog-rock leaning-on-a-bar leanings, and moved towards writing the sort of pop rock music that is actually fairly enjoyable to listen to, which coincided with Collins starting a solo career.
Further albums such as Abby Cabby (1981), Shapes (1983), and Invisible Touch (1986), each of which saw the band's sound progressively become more poppy and less progressive (zing!), sealed their fate, to the point where Prog King Robert Fripp expelled the band from Progressia, the land of prog-rock. Fripp was too proggy to be fooled by ten-minute songs such as "Domino", or even instrumentals like "The Brazilian", which were simply pop pretending to be prog.
In 1989, Genesis composed the theme song to the television hit Quantum Leap.
1996–98: Alt rock era; Just Pretend it Never Happened, Everyone Else Does
[
edit
]
Collins whined some more, and by 1996, even Banks and Rutherford were fed up with him, so they kicked him out. They went on to hire another singer who nobody cares about, and released an album called Calling All Stations. It was so incredibly terrible that Mozart decided to banish Genesis from the world of music altogether, and they went on hiatus for the next decade.
2006–present: Reunion, another hiatus
[
edit
]
In 2006, Collins promised that he would whine as little as possible, so Banks and Rutherford decided to give him another chance, and they reformed the band. They did a reunion tour in 2007, but made no money, because they forgot about the existence of tickets, and charging people money to buy them.
Since then, they have been in the Amazon Rainforest looking for Peter Gabriel (a.k.a. Rael), hoping that he would explain to them how to make and sell tickets.
Discography
[
edit
]
From Genesis to Revelation (1969)
Intruder (1970)
Nursery Crimes (1971)
Foxtrot (1972)
Selling England by the Euro (1973)
The Lamb Lies Down: On Ice (1974)
A Trick of the Tail-Chaser (1976)
Wind & Wuthering Heights (1977)
...And Then They Were Fucked... (1978)
Fluke (1980)
Abby Cabby (1981)
Shapes (1983)
Fingers (1986)
We Can Dance If We Want To (1991)
Calling All Stations (1997)
See also
[
edit
]