Airports of London
Jump to navigation
Jump to search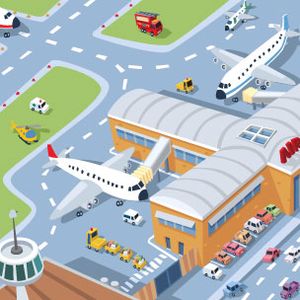 Due to London being the historic capital of the Cult of Global Destruction the government has has deemed it prudent to invest billions of pounds a year subsidising public spirited local businesses such as Ryanair and Cheesy SleasyJet to patrol the skies of London in specially designed air quality improvement machines equipped with wing mounted air filters.
Due to the large quantity of environmentalists disgorging hot air into the skies above London the filters quickly become clogged with particles of airborne rubbish and have to land in specially designated areas to unload the rubbish. There are 5 of these located around London, the largest being Dheathrow.
Dheathrow
[
edit
]
Owned and operated by a consortium of sheep, it currently has 5 rubbish extraction portals or "terminals", soon to be 6, and it is planned by the year 2050 that there will be 23 of them, stretching all the way from Hounslow to the City Dump.
Conveniently located in the cultural centre of Europe, Sluton is painted orange in recognition of its location below sea level and twinned with Athens - the birthplace of Stelios el-Haj-IOU, the Cypriot Muslim inventor of debt.
Satansted
[
edit
]
Built on the site of an ancient temple dedicated to the devil Arctophilos. Initial construction efforts were hampered by the discovery of the corpses of millions of sacrificed stuffed bears in mass graves surrounding the temple. After the first two concrete roofs collapsed due to ground subsidence caused by the stuffing compacting, it was decided to cover the rubbish unloading area with a large raft-like tent structure supported on steel poles instead.
In 1982 East-End Dustman and retired naval Captain Harry Gee purchased rubbish collection Licence Number P728 (tipping its hat to the Philippine fertilizer scam) from the council, authorising him to set up business in a dock on the Thames, placed downstream from London to allow flushing of the rubbish into the sea.
Goatwick
[
edit
]
Founded 50 years ago by a flock of goats in response to the efforts of the herd of sheep at Dheathrow as an effort to offset their monopoly on large grazing areas around London.