UnNews:Why haven't B-listers joined the SAG-AFTRA strike?
Jump to navigation
Jump to search
Wednesday, July 26, 2023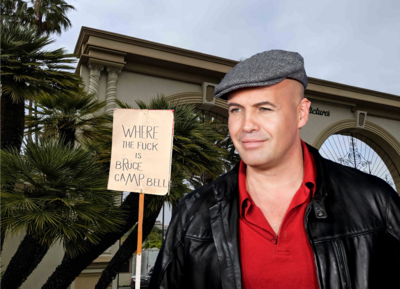 By Matt Donnelly

Variety
On Monday, I wrote an article asking where the hell all the A-list actors were in the SAG-AFTRA strike. It seems I spoke too soon, as many of them came out in full force in Times Square Tuesday. Bryan Cranston, F. Murray Abraham, Jessica Chastain, Steve Buscemi, Christian Slater, Christine Baranski, Titus Burgess, and the bad guy from Avatar. Sure, fine. Good for you.
Now I'm asking for the B-listers to step forward. Where the fuck is Bruce Campbell? What about you, Martin Mull? George Hamilton? "Weird Al" Yankovic? Robert Wuhl? Bob the Goon? Paul Reubens? And you, Die Hard villain who looks like Huey Lewis? Or that Jerry Seinfeld lookalike from Pulp Fiction? Malcolm McDowell? Michael Biehn? Mr. Bean? The bad guy from Passenger 57? Surely he could catch a flight? Passenger 57 himself, Wesley Snipes? The abusive husband from Sleeping with the Enemy?
And surely Billy Zane has nothing better to do? And what about those good actors whose face you recognize, but can't always name? Someone like Djimon Hounsou, Clancy Brown or Bob Gunton? Stephen Tobolowsky? Tim Meadows? Keith David? Bill Sadler? 80s comedy villain Dabney Coleman? Jeffrey J-- No, never mind, bad idea. Tia Carrere? Shang Tsung from the 1990s Mortal Kombat movies?
Where the hell are you, Robocop? Maybe the kid from Tron Legacy can tag along? Whatever happened to Aristotle Athari? That guy was funny. And I won't be completely satisfied until Lance Henriksen holds up a picket sign that reads "Not bad for a human!"
And are any of the horror icons accounted for? Nick Castle? P.J. Soles? I'd love to see her hold up a giant residual check and ask the crowd, "See anything you like? I totally don't!" Robert Englund? Kane Hodder? Leprechaun? Leatherface? Pinhead?
Forgive me, readers. It's a painfully slow news day here at Variety. I'm just trying to make a quick buck. Hell, you can only write so many Barbenheimer articles before you kill a good meme. And does anyone give a shit about Shark Week anymore?