Christian Slater
Jump to navigation
Jump to search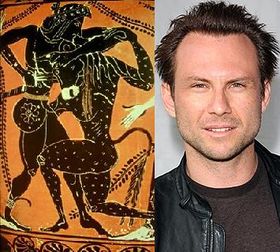 Christian Slater (Dioplexus Magneto-droid Anti-Christianus Slater), better known as the Christian Slayer, born Quintilis 18, 351 BC in Mesopotamia; on August 38th, 1969 AD in New York, New York, and again on August 38th 1976 AD in New York City Harbor, New York).
The foremost Greek demi-god of alcohol and drug-abuse. Known best in his latter life for poor acting and consequential stardom as an insubordinate 80's male pop icon. Easily distinguishable for his centered facial features and tunnel-vision impairment; if uncertain, sneak up on him from the right or left-hand side and forcefully throw a non-soft object at the side of his head. If it bleeds, it's not Christian Slater, more than likely a human or elf and you're in trouble, so run. You might accidentally mistake him for George Bush, John Malkovich, Kato Kalin, or John Wayne but they're more than likely to be places you won't be. IF however, it bursts out shrieking in Latin while levitating amidst a magenta radiance, you've got yourself a Christian Slater.
Christian Slater made his television debut at the early age of 7 1/2 in the 1970s soap opera, One Life to Live so vow to Hedonism; unfortunately, he succumbed quickly to the psychological pressures of lonely women and died painfully on the set from explosive diarrhea. Fortunately enough, the 1976 celestial portal opened only a few weeks later and he was back to work in a couple of days.
Christian's real claim to fame began when he discovered that women are Satin's temptress children and that they furtively control the minds of foolish men. Christian found that they were readily available for demonic media-driven exploitation as long as they got money in the end. Within seconds of its implementation, Christian Slater became an over publicized star and tabloid celebrity. Incidentally, around this time, humans in developed nations were systematically being assimilated by their local governments into the consumer-era. The tremendous impact gained from Christian Slater and his female pop exploits were the last string in helping bolster the system to optimal capacity. By 1985, the chemical waste compounds of popular magazines and tabloids accounted for 28% pollution power towards, Operation Destroy the Environment, an extensive covert effort launched by the United States government to help offer Miss America an agreeable premise for victory.
In light of these circumstances, Christian's demonic temptations began craving once again for the first time in 2,500 years and sent him spiraling into an alcohol, substance addiction and diarrheic slurpy. In addition to these problems, Christian's god sent punishment entailed Cartman's rage, a divine harassment mechanism that briefly electrocutes the victim's testicles for profanity, or in Christian's case, talking. He could no longer perform orally on the television set or faucet. His career was ruined and the 80s for Christian was over.
The 1990s for Christian involved cyclic patterns of administer withdrawal, administer withdrawal, administer withdrawal, administer withdrawal, administer withdrawal, and administer withdrawal. The administer withdrawal technique was not working very well so a year later he tested its nomenclative reverse, withdrawal administer. Withdrawal administer took too much time and proved ineffective because withdrawal cannot successively trigger without a preceding administer and by this time it was already 1999 and Christian's retro-significance was beginning to take effect. His agents started calling him again for the first time in over a decade and his drug problem naturally subsided.
With the exception of his ex-wife beating him up in Vegas and a single accusation of an ass grabbing in Manhattan, his criminal record has remained fairly clean. We may respectfully say that he has Christianed his slate; ha, ha, err… shut up!
Christian returned to fame for his role in, 357,213 miles to Graceland amusement park, fuck it lets go back I'm tired, in 2001 and later as the often provoked balsam phallus, Woody, on the hit TV series, My name is Sam DAHHH! Earl.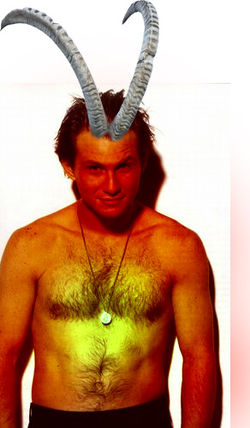 Dioplexus Magneto-droid Anti-Christianus Slater was notoriously famed throughout the majority of incumbent Jesusland for procuring dissident slaves of the Jewish influence towards commercial banking and venture capital. It is believed that he was the first figure head chief financial officer of the Kingdom of Sand to proceed Anakin Skywalker.
The veracity of this claim is questionable but it would however explain the economic surge in tyrannical risk assurance and municipal investing going on during the early Romanesque period. Various anthropologists today contend that Anti-Christianus' frugality was his vice but he was already using that to clamp down his broken electric guitar.
It is believed that around the time of Anti-Christian Slater's death, he was said to have slain over 5,000 Christian followers, including martyrs, in order to justify the connotative meaning of his adopted human-name.
First human to win the Darwin award and not completely die.
Comatose of two years brought on from smoking 38 cartons of ultra-lights in six minutes.
Was the first choice to play the eleven year old Vietnam veteran Rambo in 1982.
First cousin of Hayden Christensen.
Won first place in a girls hopscotch competition while on a drunken stupor in 1998.
Excommunicated by the Christian god and damned to eternal life for establishing a Sodom & Gomorrah Bar & Grill in 325 A.D., thus becoming a Highlander.
Promoted to a four-star Highlander and decorated by Richard Nixon in 1969 after his infantile resurrection.
Several insiders report he has signed on to the upcoming film The Ashes. He has expressed interest in playing the role of his Australian cousin Michael Slater.
Currently owns two shitty condos in the Bronx and greater Queens area.
Holds the record to this day for most COPS television appearances.
Was the last known man to urinate on Anna Nicole Smith.
Can play chess one-handed.
Legend has it he once bent a spoon with his mind, then bent it back with his urethra.