UnNews:SNL noob Aristotle Athari blasts SNL for lack of screen time
Jump to navigation
Jump to search
Thursday, April 7, 2022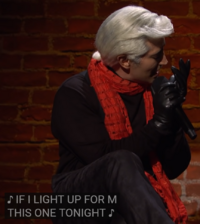 LIVE FROM NEW YORK -- SNL star Melissa Villaseñor is joining a chorus of fans on social media blasting the Lorne Michaels institution for the reduced screen time of new cast member Aristotle Athari.
"I agree," Villaseñor said on Twitter, "that new guy needs more screen time. What's his name again? Socrates Ninthendo? Plato Segha? Nostradamus Playsthation 2?"
She added, "I love when he played that B&H Photo employee who did that Fiddler on the Roof routine. And that game show where he played the contestant who spotted the word 'porn' in that word search."
By comparison, fellow newcomers James Austin Johnson and Sarah Sherman have gotten considerate screen time.

"James Austin John (sic) is front and center as Biden and Trump," says @SayForMe2002, "And yet Aristotle Athari can barely get an Angelo sketch on air. He plays the clapper guy or a lottery machine mechanic or a TikTok dancer."
"Relax," Kenan Thompson chimed in. "Even I didn't run wild my first year. And I was already a veteran of a sketch comedy show, All That. Not to mention Kenan & Kel and Good Burger. Now I'm in almost every sketch. In 20 years, Pythagoras will be in so many sketches, you'll be sick of him... like me! And Kate [McKinnon]. And Melissa. And Pete [Davidson]. And Aidy [Bryant]. And the host."
@2niiiiiight tweeted, "Bring back that robot comedian... toniiiiiiiight!"
Athari himself responded on Instagram: "Thank you all for your kind words. Who knew I could get so many fans just some wearing a white wig, whisper-singing gibberish, and singing the word 'Toniiiiiight' five billion times? And for having the single coolest name of any SNL cast member in history? And for looking like a cross between Buster Keaton and a young [German cult film actor] Udo Kier? It's too bad I can't play Will Smith. I could have gotten a lot of mileage last week. It would've been a big hit. Damn! Please give me more screen time, Lorne. I could play Putin till I'm blue in the face. Or let me do Laughintosh 3000 again. Or The Count from Sesame Street. Or have me play Benedict Cumberbatch and spoof that boring-ass Power of the Dog movie. Or Robert Pattinson. I'm already the SNL Spider-Man; Batman would be a breeze. Eurovision is coming up: Let me play one of those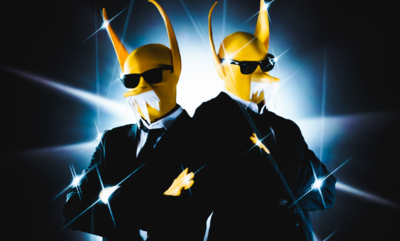 Wolf Banana guys."
Athari was not featured in any sketches last week, but a cut Angelo sketch has since been uploaded to SNL's YouTube. In the past few weeks, Athari has posted images on Instragam of would-be sketches, including one where he would have played a Ronald McDonald nun.
Sources
[
edit
]