UnNews:Were-Dick Cheney under investigation
Jump to navigation
Jump to search
1 January 2010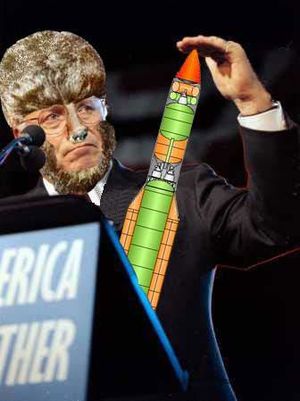 WASHINGTON DC -- Former Vice-president, Walmart greeter and current werewolf Dick "Dick" Cheney is in the news again. This time, he is the subject of an investigation into a possible cover up during his tenure as VP, when he shot Harry Whittington in the face.
On February 11, 2006, it was reported by media that Cheney accidentally shot Whittington, a 78-year-old Texas attorney, in the face, neck, and upper torso with birdshot pellets when he turned to shoot a quail while hunting on a southern Texas ranch.[1]
Whittington suffered a mild heart attack, and atrial fibrillation due to a pellet that embedded in the outer layer of his heart, but recovered nicely with only moderate disfigurement of the face and neck.
First public news of the incident was called in to the Corpus Christi Caller-Times on February 12, 2006, by ranch owner Katharine Armstrong. The Bush administration disclosed the shooting incident to the public the afternoon of February 12.[2] In both reports, it was alleged that ranch outrider Oscar Medellin flushed a bird out in the vicinity of Mr. Cheney. It then flew up, around and behind Cheney in the direction of Whittington, who was then shot as Cheney was making a try for the quail.
Now an eyewitness has come forward, disputing the facts of the incident. "Outrider Oscar Medellin was transformed into a werewolf, before our eyes," claims Pamela Pitzer Willeford, who was tagging along that day for an unspecified reason. "The Vice-president acted on instinct shooting the beast several times. Poor Mr. Whittington was caught in the crossfire."
The apparent reason for the cover up is that Cheney was bitten by the creature during the struggle, and has become himself, a werewolf. "It was by luck more than good shooting that Dick survived," said Katharine Armstrong. Her game ranch is known to a powerful few, who enjoy the pursuit of extreme exotic game. "That day, those fellows were out for quail. He never could have killed a were-anything with bird shot. We stock some chupacabra, sasquatch, werewolves; we even had a pack of were-hyenas last year for Hugh Hefner's party. Our parties always go out with an mechanized armored compliment as backup. This is the first time this sort of thing has ever happened."
Mr. Medellin fled before he could be contained, and is still the object of a manhunt. Another former employer, Halliburton, has contracted for a werewolf-seeking missile in order to kill the original werewolf, Medellin, and free his victims from being werewolves, such as Mr. Cheney.
Oddly enough, Dicks personality and temperament have remained constant, whether he's changed or in human form.
Sources
[
edit
]