PREHENSILE PENIS
Jump to navigation
Jump to search
OK, SO A PREHENSILE PENIS, LIEK CAN WRAP YOUR ASS UP LIKE AN ELEPHANT WRAPPING UP A NEWBORN BABY IN ITS TRUNK. THIS GIVES MANY PLUSSES TO THE ANIMALS THAT HAVE THEM, NOTABLY WHALES OR SOME SHIT. LIKE, THE WHALES COULD PET THE BABY VERY GENTLY WITH ITS INCREDILE SCHLONG WHILE ALSO EATING KRILL.
INSTEAD, WHALES HAVE BEEN KNOWN TO KILL ALL THESE BABIES WITH THRIE WEIRD BABY KILLING TRUNK PENISIS, AND LIKE, JACK OFF OR SOMETHING AFTERWRSDS.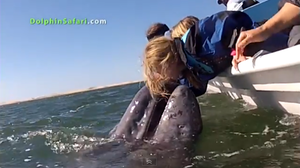 SO THESE WHALES ARE GIFTED THE GREATEST GLANS ON THE PLANET. THEY COULD PICK UP APPLES, PET DOGS, OR PLAY CHESS WITH THEIR PENIS. HANDS ON HIPS, JUST SLAPPING A LONG ONE WITH THEIR FRIEND. OR LITERALLY ANYTHING ELSE. INSTEAD THEY CHOOSE TO STEAL INFANT BABIES FROM THEIR HOMES, RIP THEM FROM THEIR CRIBS AND CHOKE THEM OUT WITH THEIR LONG, TRUNK-LIKE PENISES THAT ARE ALL JIGGLY AND WIGGLY AND SHIT, BUT ALSO STRONG, LIKE A THICK PIECE OF WOOD.
WHO THE FUCK KNOWS. WHALES ARE REALLY UPSET ABOUT DOLPHINS, AND LIKE, ALL THE ATTENTION THAT DOLPHINS GET. EVERYONE THINKS DOLPHINS ARE SO SMART, AND SO SPECIAL, BUT HAVE YOU EVER SEEN A DOLPHIN EAT A HUMAN CHILD IN FRONT OF THEIR SCREAMING, HORRIFIED PARENTS? LIKE 99% OF YOU ARE SAYING NO RIGHT NOW, SO THAT SHOULD TELL YOU HOW CRAZY WHALES ARE. SO POWERFUL. SO SMART.
DID THE BABIES HAVE IT COMING?
[
edit
]
I DON'T KNOW. MAYBE. THEY CRY A LOT. ACT LIKE ASSHOLES ALL THE TIME. OR MAYBE...
THE WHALES ARE TRYING TO STRENGTHEN THE BABIES
[
edit
]
MAYBE THE WHALES JUST WANT THE BABIES TO BE STRONGER. LET THE BABIES FIGHT OFF THESE CRAZY ELEPHANT WIENERS WITH THEIR OWN PENIS'S LIKE A MEDIEVAL SPEARMAN FIGHTING OFF ANOTHER, MUCH LARGER, MUCH MORE SNAKE-LIKE SPEARMAN. PERHAPS THE WHALES JUST WANT WHAT'S BEST FOR US. IF A SINGLE BABY COULD SURVIVE THE THICK, TENSILE STRENGTHE OF THESE STRANGLING PREHENISLE PHENISS, PERHAPS THAT BABY WOULD HAVE THE PWOER TO RULE THE WORLD.