User:Zim ulator/UnNews Religion Section model
Jump to navigation
Jump to search
Welcome to UnNews Religion Section.

Spirituality in the news.
UnNews takes a dim view of religion, especially those which practice old time rituals like "Hyenamancy". That being said, spirituality is an bottomless well of humor. George W. Bush, the Pope and Westboro Baptist Church get their fair share of ribbing here. Not to be too discriminating, we extend our wit to all faiths and cults, whackos and nutjobs, the saintly and the blasphemous. Your cross to bear, dear reader, is the occasional fact sprinkled among this journalistic gem store, and for this, we apologize.
Military seeks to accommodate all religious faiths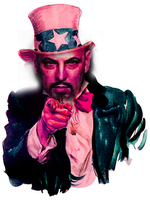 SAN FRANCISCO, California -- Newly-resurrected Church of Satan founder Anton LaVey announced this morning that he will actively assist the Pentagon in bolstering recruitments in the armed forces. more...
edit
Religion News Quote of the Moment
"
Homos are fags!
"
– Reverend Obvious on Indonesia
edit
Selected UnNews Religion Image
Atheist Jacksonville Jaguars' lineman rejects the divinity of Tim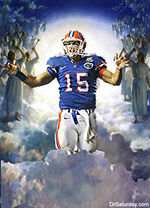 JACKSONVILLE, Florida - As faithful Jacksonville Jaguars fans eagerly await the promised second coming of the messiah this draft season, there is one self-righteous player on the team attempting to undermine the faith by outspokenly rejecting the savior's divinity and denying the One True Path to Jaguars salvation. more...