Unquotable:Quotes in Gangsta
Jump to navigation
Jump to search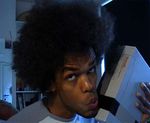 Yo boi, wut up. Y'all be down at tha crib we playaz like callin' "da' Unquotabullshit, an' you suckaz might notice it ain't costin' y'all shit. Dag, yo! Ain't no bitches givin' a shit 'bout tellin' wuz'all true here, word up. All jus' suckaz puttin' fake-ass shit in like it's said by some dead-ass famous lily-ass muhfucka. Fuck all, ain't 'dat da bomb! We got otha yammaz' lingoze here too but ain't no homies understandin' all'at. Fo' shizzle. Like 'dey even got yo some big-ol' ass Uncyc'yopedia thang, fully-strapped an' loaded an' ready to do some serious bidnezz, yo. Dazzum way strong fly shit. All y'all punk-ass bitches can even fuck up 'dis shit all y'want, 'dey even tellzya how. If y'all get yo ass bored an' shit, foolz even got a shit box for doin' whatevah y'all pleeze. 'Dey tellz ya go to tha set yo' ass up page but fuck that shit, bro. Ain't no way I givin' no broke-ass peace officaz fuck-all 'bout my personal affairz 'n' shit. Fuck 'dat. fuck u
It's All Random An' Shit
The interesting thing about being interested in random things is that there's
nothing to be interested in, if you're only a random thing.
Groucho Marx
Word up: Ain't no random shit like they sayin', dawg. Fact they probably usin' robots an' shit fo' puttin' this shit up. Ain't no mo' than, like, a dozen o' these muhfuckaz, so these bitches say otha-wize, y'all gotta cap they ass, yo?