UnNews:Rob Zombie's Halloween: Ten years later
Jump to navigation
Jump to search
Thursday, August 31, 2017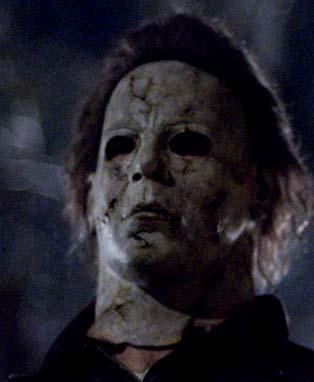 HADDONFIELD, Illinois -- On Friday, August 31, 2007, rock star-turned-wannabe filmmaker Rob Zombie unleashed his ill-advised remake of John Carpenter's highly influential (and oft-imitated) 1978 slasher classic, Halloween. Ten years later, how does the film hold up... if it ever did at all?
Hell, I had reservations even then! But time, and a horrible sequel, have magnified the 2007 film's faults. Let's break it down.
Designed by Wayne Toth and cast from Tyler Mane's head, this mask looks close enough to the original William Shatner Michael Myers mask. They made a few different versions, with varying degrees of "age" and grittiness.
Despite the fact that he's too tall and imposing (6'8"!), the former wrestler-turned-actor's performance was rather good. And he did make Michael Myers scary again, all things considered. It's still a far, far cry from Nick Castle in the original.
Young Michael Myers actor Daeg Faerch, who was 11 at the time, turns in one of the better, if not "best," performances in this film. We never needed to see Michael's backstory, but Faerch's performance is nevertheless good.
Talented beyond his years, he doesn't have many credits that show off his true potential. His highest profile credits are Halloween, a one-scene bit part (a cameo?) in Will Smith's Hancock, and a bit part in two episodes of TV's Pushing Daisies (he got a speaking part in the first of these episodes; in the second, he didn't get a speaking part, but he did get to play the saxophone.)
If you want to see what this dude's truly capable of, he has several short films and indies he did before Halloween that you can find on YouTube. More recent credits are sparse, but include Ditch Party, which is available for free on Amazon Prime, and an uncredited voice role in Ben Affleck's The Accountant. But a gig's a gig, right? When he's not acting, he also raps. The majority of his post-Hancock credits have never been released to my knowledge. He shot a film in late 2009 called Sebastian that didn't even find a distributor! But that's showbiz.
Rob Zombie approached the legendary A Clockwork Orange actor to take over the role of Dr. Loomis from the late Donald Pleasence. He never saw the original Halloween, and it shows. But McDowell is such a fine actor that it didn't really matter. He held his own and did a respectable job with what he was given. He overcame bad writing/dialogue. It will never top Donald Pleasence, but it was good for what it was.
Popular character actor, Oscar nominee (One Flew Over the Cuckoo's Nest), and voice of Chucky. Brad Dourif plays the Charles Cyphers role of Sheriff Brackett. To borrow one of his own lines in the film, Dourif "play(s) it razor, and I mean razor straight" when he has every opportunity to ham it up and play it traditionally. He doesn't even treat the Halloween remake as a horror movie, but more like a solid thriller. If only it actually were that solid.
We didn't get to see much of the usually-tough-guy actor, but he was "good to you, Mikey!" We could have seen a lot more of his relationship with Michael. That being said, we never needed to see Michael's backstory, but Trejo's performance was nice. He should play a sensitive softie more often, not that he should abandon his tough-guy persona.
She was everybody's mom in the 80s, and she got to be Laurie Strode's adopted mother. She's automatically likeable, no matter the quality of the movie she's in.
The second act (for the most part)
[
edit
|
edit source
]
The second act was Michael Myers at Smith's Grove. This was probably the "best" of the three acts, though not without its problems. It's the least white trash portion of the film, but it does creep up in Lew Temple's character, who we don't see much anyway. Also, Mickey Dolenz pops up as a sporting goods owner from whom Loomis buys a .357 Mangum.
Tyler Bates's score, adapting Carpenter's classic themes, was pretty neat.
"God of Thunder" by KISS. "Tom Sawyer" by Rush. "Let It Ride" by Bachman-Turner Overdrive. "Love Hurts" by Nazareth. Alice Cooper. Frampton. The Misfits. Iggy Pop. You'd think this were Dazed and Confused.
The Theatrical Cut escape scene
[
edit
|
edit source
]
If you see Rob Zombie's Halloween films today, you will most likely be seeing Zombie's Director's Cuts rather that the Theatrical Cuts. Theatrical Cuts of the film and its sequel on video do exist, but they are hard-to-find. Even the 2014 Halloween box set only includes these cuts. (However it includes the original and alternate TV cuts of Halloween 1 (1978) and 2 (1981), and both the Theatrical and Producer's Cut of Halloween: The Curse of Michael Myers.)
A hell of a lot didn't work! Let's take a look.
"Maybe I'll choke my chicken and snorkel all over her flappy-ass tits?" "Bitch, I will crawl over there and I'm gonna skull-fuck the shit outta you!" What the fuck does that even mean? Every other word was "fuck" or "shit." Even for me, it went too fucking far.
What more needs to be said? Shortcut: Ronny White (William Forsythe) and Noel Kluggs (Lew Temple). The less said, the better. Moving on...
The sound design is very in-you-face and loud! Carpenter was much quitter. "Subtle, isn't he?" Rob Zombie's about as subtle as a thunderclap! He cranks the sound up to eleven!
Sherri Moon Zombie in the first act
[
edit
|
edit source
]
The first act is easily The Weakest Link. 99.9 percent of it is white trash, fuck, shit, horrible dialogue. I don't know how much of Sherri Moon's performance in the first act is her fault or her husband's. See below.
the Director's Cut rape/escape scene
[
edit
|
edit source
]
See above. The rape scene was just for shock value. It's a shame that this scene is important to the story, if only because it leads to Michael escaping. Rob Zombie should have stuck with the theatrical escape scene. "So what creep are we moving out?" "Michael... Myers." "Trick or treat, baby."
See for yourself.
One of the biggest problems is that Scout-Taylor Compton's Laurie Strode isn't even a shadow of Jamie Lee Curtis. The two interpretations of Laurie are offensively dissimilar. Compton is a C-list-caliber actress at best. She overacts and never seems genuinely scared. She needed to take a few pointers from Curtis, who became a scream queen (and later an A-list star) thanks to this role, one of the most iconic protagonists in horror.
Skyler Gisondo (Tommy Doyle) and Jenny Gregg-Stewart (Lindsay Wallace)
Halloween vet Danielle Harris
Kristina Klebe
Sherri Moon Zombie in the second act
Ken Foree's Big Joe Grizzley is a guilty pleasure. He's too good for this movie; he needs one of his own.
Horror vet Udo Kier was pretty good, if brief. I'm unsure about Clint Howard.
The film is very hit-and-miss. Some things work, but most of it doesn't. I liked the film a lot better in 2007 and 2008 than I do now. Today, I would rate it as a 5.5 out of 10.
Happy anniversary, whether you like the film or not.