UnNews:Oprah Winfrey opens South African starfucking academy
Jump to navigation
Jump to search
3 January 2007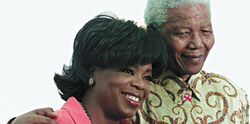 HENLEY-ON-KIP, South Africa -- American television host Oprah Winfrey opened a $40 million academy Wednesday that will train girls to perform verbal fellatio on wealthy entertainers.
"I wanted to give these children the chance to pursue dreams they would walk over nails for," Winfrey said at opening ceremonies for the school. "I rose out of poverty by reminding Julia Roberts how good she looks, and so can these girls."
Located a few miles south of Johannesburg, The Oprah Winfrey Starfucking Academy will teach 152 students to value themselves and value movie stars and singers even more. The students, all of whom come from impoverished families, will learn speech, television production and comparisons of Bono to Jesus Christ.
"There is a light in these girls," Winfrey said. "A light that needs to be shined directly on Beyonce's utter fabulousness."
Former South African president Nelson Mandela praised Winfrey, saying the school would help the country cast off the last vestiges of apartheid.
"In the United States and the United Kingdom, even a minor star like Dane Cook can count on 10 people lining up to tell him what a genius he is," Mandela said. "But I, the leader of the resistance to a racist, undemocratic regime, have only three people willing to acknowledge my greatness. Oprah, you are a godsend."
"No, you are," Oprah teased.
Also on hand for the ceremonies were singer Tina Turner, comedian Chris Rock and weatherman Al Roker, who Oprah called "brilliant," "hilarious" and "wonderful."
Students were delighted by the opening.
"Just being here is a cause for me to celebrate," said Cherie Ngucka, an 11-year-old from Cape Town, who wants to host her own talk show one day. "Thanks to Oprah's generosity, I will fulfill my lifelong dream of meeting Cedric the Entertainer and Lucy Liu.
"Both of them star in 'Code Name: The Cleaner,' a hilarious new comedy opening this week," Ngucka added. "Cedric and Lucy will have some terrific stories about the set, no doubt."
Winfrey will teach courses at the academy, and a rotation of visiting professors from a movie coming out Friday will also be on hand.
The project has already inspired other entertainers. Footballer David Beckham will open a "Soccer Clinic for the Poor and Metrosexual" in London's Shepherd's Bush neighborhood next month. Singer Kylie Minogue announced plans last week to open an school to help Aborigine children become big-titted pop stars.
Sources
[
edit
]