UnNews:Nick Castle returning as Michael Myers in Halloween 2018
Jump to navigation
Jump to search
Tuesday, January 2, 2018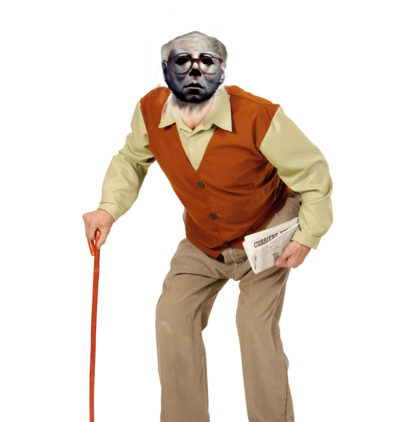 HADDONFIELD, Illinois -- Despite bitter cold New Year's temperatures, things are really heating up for the Halloween Horror Film Franchise. The latest sequel to John Carpenter's classic chiller will not only bring back Carpenter himself and Jamie Lee Curtis, but also the original man behind the William Shatner mask and coveralls.
It was announced that writer-director and original Michael Myers actor Nick Castle will return to the terrifying role of the one and only "The Shape." This despite the fact that the dude turned 70 on September 21 and has a beer belly the size of a basketball.
But it's debatable whether Myers is really susceptible to such human conditions as age. He may be eligible for AARP or to run for office as a Republican, he may be in the same age demographic as Murder, She Wrote and Matlock, he may need more fiber in his diet, but Michael Myers is still dressed to kill for another 40 years.
Just be glad they didn't cast 77-year-old Halloween II veteran Dick Warlock. "If [they made a Michael vs. Jason and] I were playing Michael, Jason would win," Warlock once quipped.
Somebody uploaded an Instagram video of Mr. Castle in Myers mask getting in shape so that he can once again play The Shape. Given Castle's penchant for humor (the dude directed Dennis the Menace and Major Payne, plus he's playing a 61-year-old Michael Myers at 70!), we at UnNews can confirm that it's really him and not just some old, fat fanboy.
Not to be a sore loser, previous Michael Myers Tyler Mane (of the Rob Zombie remake and its sequel) had this to say about Castle's triumphant (if geriatric) return:
"I couldn't be happier to hear that NICK CASTLE is coming back to play the role of Michael Myers in the new film. Thank you for letting me borrow the suit for a time. Shout out to @johncarpenterofficial #jamieleecurtis and all the OG crew coming back to the franchise! #cantwait #fanboy #Halloween At least you're not sending Michael to space."
~ Tyler Mane
Warlock, however, has not as enthusiastic:
"Fuck you! Why can't I be Michael Myers? I would have kicked Busta Rhymes's ass! Corn Flakes doesn't pay for itself! I'd do the film for free, arthritis be damned."
~ Dick Warlock
The film is still casting roles for "high school students" and begins principal photography either this month or next. It will be released by Universal and Blumhouse on October 19, 2018.