Turkey Coca Cola
Jump to navigation
Jump to search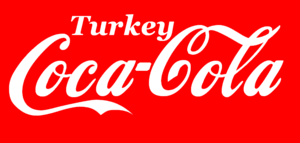 Turkey Coca Cola (also known as Turkey Coke) was a soft drink created by Andy Warhol, via an collabration with The Coca-Cola Company in 1968. It's a flavor of Coca Cola that stirred widespread controversy for containing meat. Released to the public on May 19, 1969, the drink became a commercially victorious product upon debut but garnered poor reviews and was the subject of criticism from animal rights groups. PETA filed suit in early 1971, with Warhol and Coca-Cola Co. being found guilty of making such a deadly drink in late 1972, and it had been almost universally banned afterwards for 10 years (from January 1, 1973 to January 1, 1983). An attempt to revive Turkey Coca Cola under the moniker New Turkey Coke was made in 1985, but was a critical and financial flop, and its final bottles were sold in 1997.
Details and ingredients
[
edit
]
All versions of Turkey Coca Cola (except for "New Turkey Coke") foster many silimarites to the original Coca-Cola, with the addition of the word Turkey placed above Coca and next to Cola. "New Turkey Coke" was usually packaged in boxes designed to resemble the flesh of chicken.
All of the ingredients of Coca Cola were kept, but this time it is mixed with home-baked bullshit. Turkey Coca Cola's most infamous ingredient is tiny pieces meat, actually taken from turkey and placed into the "Turkey" concept of Coca Cola (thus coiniciding with the title of the drink). If a person with select health issues drank Turkey Coca Cola, he'd be fucked up to death, since fungi is accidentally added to the soft drink's overall composition.
Creation
[
edit
]
The idea of Turkey-flavored Coca Cola drinks dates back to urban mythology in 1936, when a fan of Coca Cola believed it is the first soda to integrate meat into its contents. This myth later spread word-of-mouth around the world, attracting the attention of The Coca Cola Company in 1960.
Andy Warhol was a famous artist who popularized the pop art movement in the 1960s. He was responsible for creating odd works of art, such as making a series of painting titled Campbell's Soup Cans and taking pictures of 35 cans of Campbell's Soup in a blender on his 35th birthday. He was a fan of Coca Cola and first heard of the concept of "Turkey Coca Cola" in 1963. He contacted The Coca Cola Company to create a drink based on this myth in mid-1964, and in 1965, development of the drink began.
Under the direction of Warhol, various concepts were made by Coca Cola between 1965 and early 1966. The best concept for the drink, titled "Turkey Coca Cola", (written and developed by Ansgard Roland) was accepted. Between 1966 and late 1967, certain The Coca Cola Company employees hunted for various animals, and cooked them in 1968. Turkey Coca Cola was finalized on November 24, 1968, and revealed to the public eye on December 19, 1968, over four months before production on it began on April 27, 1969.
"It's the Real Turkey" marketing campaign
[
edit
]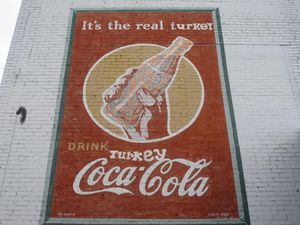 Starting in early 1969, (after about 25 years) the "It's the real thing" slogan returned for a promotional voyage to 1969 with "It's the Real Turkey". Having sought for the desire to bring that classic tagline back, The Coca-Cola Company brought members of The Velvet Underground and Warhol invent these advertisements, with the former group doing the soundtrack and the latter directing it. Warhol also pioneered guerrilla advertising with It's the Real Turkey, the world's first alternative reality game (ARG) ever (though this concept won't be popularized until after the internet began its existence in 1991).
The filmed version of the adverts premiered during Super Bowl IV, and cost over $10 million to make, making the most expensive commercial ever made; they remained on air for years until its 1973-1983 banning period. Too fucking EXPENSIVE for television!
"It's the Real Turkey" triggered criticism from animal rights organizations like the People for the Ethical Treatment of Animals (PETA) (who later filed suit against The Coca Cola Company), stating that they contain badass imagery such as destruction of animals (much of this topic is depicted in a factory, where the ads take place) for example. They also found out many weeks after its release date (May 19, 1969) that the drink can cause death and must never be sold again. On the other hand, the adverts helped boost the sales.
The image consisting of the Andy Warhol-painted poster of the marketing campaign later became the center of a world famous, namesake, internet meme ("meme" is pronounced "meem", not "me-me") in 1994, upon the 25th anniversary of its initial release.
When the Warhol family celebrated the 40th anniversary of Turkey Coke at the Andy Warhol Museum, "bootlegged" recreations of the drink were sold under the alias Chicken-Cola. This readymade concept was rejected shortly after it was pitched to The Coca Cola Company on March 8, 2002.
Release, reception and controversy
[
edit
]
Turkey Coca Cola was released worldwide on May 19, 1969. It turned into a finiacial best-seller upon release, and ambiogiously entered the Guinness World Records book in 1970 as a new entry for the "fastest-selling drink" ever. Anchored by the adforementioned "It's the Real Turkey" campaign, it sold over 14 million drinks in its first week, 32 million drinks in its first month, 69 million drinks in its first year, and over 100 million drinks overall despite its short lifespan (the "New Turkey Coke" incarnation had a longer lifespan than the original "Turkey Coca Cola", jettisoning into approx. 12 years). In a 1977 interview with Andy Warhol, he said "Now Turkey Coca Cola's what I call very motherfuckin' fast as that speed of light crap!".
On the other hand, critics generally hated Turkey Coca Cola for its overuse of unusual ingredients for a drink. Writing for The Times, Abraham Royce panned the product as resembling too much like a drug: "A bunch of disgusting flavours like turkey meat make Turkey Coca Cola a two thumbs down sinister of the 'Worst Invention of All Time' award. Blame you Coca Cola for these forgettable bottles, we're sticking with Pepsi right now." Clark Kent, a Kryptonian-American writer for The New York Times, was the one of the few critics to postively comment about the drink, due to his superpowers being suitable to drink it, and stating: "Turkey Coke seems to be amazing enough for future editions of Coca Cola, but it doesn't has enough ham, however."
Animal rights organizations also reacted negatively to Turkey Coca Cola. Many of them who heard of the "It's the Real Turkey" marketing campaign and the ARG were hostile, sending messages to The Coca Cola Company, demanding that all Turkey Coca Cola drinks must be recalled and destroyed, because it creates health issues. Many people (as a result) were forced to use medical tools to protect themselves from these problems after drinking it. The Coca Cola Company did not recall it. Warhol was critical of the controversies surrounding the drink, and instigated that it is a hybrid of soda and meat, but not a cause of death.
PETA filed a 1970 lawsuit against The Coca Cola Company and Warhol that features later-confirmed claims that Turkey Coca Cola is actually a bioterrorism attack. The trial was postponed various times until the start date settled down for December 1, 1971. PETA were the winners of the suit, and the targets of the legal action pled guilty for creating a dangerous product, but weren't sentenced to prison.
After the trial, Turkey Coca Cola was almost universally banned for 10 years, from January 1, 1973 to January 1, 1983. At the time, it is still remembered and talked about at many occasions, but was never sold in stores until 1985. The overall critical reception of Turkey Coca Cola divided Coca Cola fans, brought it to a downward spiral for more than 15 years, and made Pepsi the market conqueror 'til the late 1980s, when Classic Coca Cola was introduced to a revival of success for The Coca Cola Company that continues indefinitely.
New Turkey Coke
[
edit
]
New Turkey Coke was the revival of Turkey Coca Cola from 1985 to 1997. This soft drink was promoted with a campaign using techniques silimar to the ones used in the "The Coke Is It!" campaign, titled "The Turkey Is It!". Like the original Turkey Coca Cola and the New Coke, the drink flopped critically upon release, and (unlike the original Turkey Coke) was a commercial bomb, amid having a 12-year lifespan.
See also
[
edit
]