Sunderland
Jump to navigation
Jump to search
This article was probably written by a Mackem hating Geordie!
Sunderland (or Sun'land) is a Village in the North East of England, in the metropolitan district of Toon and Wear. In 1974 it was officially designated "The refuge for people with an IQ less than three" in Mediocre Britain. The 2001 census claimed it had a population of 47 billion. This is known to be a lie (It has 48.555 billion).
Village of Sunderland
The village of Sunderland is located in the county of Sunderland. Since some sick, perverted bastard created that dump, it has been full of charvas and council housing dwellers. They are an inbred, filthy race and strongly oppose baths. One of the main council estates is Farringdon which is known for it high Chlamydia infection rate, unpredictable violence, drug use and crime. It is also known for its pride in having the officially ranked second worst football team in the world, outranked only by Washington Under 12's Down Syndrome five-a-side team. However, the Down Syndrome side has beaten Sunderland twice. Since its creation, Sunderland has been living in the shadow of a city called Newcastle, either because they are all primordial dwarves or because the Mackems are too thick to learn how to stand.
The natives of Sunderland are known as Mackems, from the old expression "mack 'em and tack' em", possibly referring to the ship builders - although new research suggests that the Mackems derive their name from and ancient roman king 'Mackemus Twatticus'. Sunderland was more recently added to the Tyne And Wear Metro because under the new crazy government laws discrimination is unlawful and we need to embrace the minorities as a modern way of life. However, these people end up in Blyth which is even more of a shithole, because nobody wants them coming up to Newcastle on the Metro and polluting the city. Blyth isn't even accessible on the metro system so it is unclear how the Mackems got there in the first place. In Blyth, 47% of people commit suicide (due to the Mackems emigrating there), while the remaining 53% of people die from the Black Plague which still exists there. Several of Sunderland's many districts include Seaburn, the separatist nation of Barnes which is populated mainly by dwarves who love Wispa and Hollycarrside. Note if you pronounce Hollycarrside incorrectly you very well might die.
Sunderland fans think they have the hardest casual football firm (the Seabum Casuals), alongside Brighton Hove Albion firm, the Bumboys.
Sunderland also has its own University, the only thing in the city that wasn't paid for by state handouts. I wish I was making up the fact people try to get into the university's 24 hour library to sleep there.
Industry
Ship Building
Ships were built on the River Weird from at least 1346 onwards, and by the mid-20th Century they had nearly got the hang of doing the tails. The port of Sunderland was expanded in 1850s, with the help of famous Mackem Niall Quinn, as by this time the numbers of people desperate to enter Sunderland had grown beyond the port's ability to cope. The ocean-going ship "Flossie" was one of the most famous passenger ships to leave Sunderland, as Joseph Conrad was a passenger, and it was on board that he wrote his first novel "I've Been Thrown Out of Heaven". The end of ship building on the Weird came in 1988.
Coal Mining
Sunderland was an almost-renowned centre for coal mining, due in part to the tunnelling nature of Mackems (see Sodomy). Since the Mackems actually did quite well, Margaret Thatcher, thank God, closed down all the coal mines. Fittingly the home of Sunderland AFC, the local football team, is built on an abandoned mine shaft.
Brewing
Sunderland used to produce a beer, called Faux (false in French) in 1207 after a French brewer named Moiseur Toad, when he discovered that by serving urine in a pint glass could get people to buy it as beer. However, in the late 1900s the brewery was taken over by a prison consortium and the name was changed to Vaux. The brewery closed down in 1996 due to a bladder pandemic, caused by too many people drinking urine. It's ok because now nobody cares about them getting poisoned so people opened up more breweries and more pubs to allow the Mackems to drink all the urine they can afford from their benefits.
Religion
Religion is not big in Sunderland. Except for football, the local religion, where they fail constantly. In Sunderland, seagulls are regarded as holy, like cows are on Mars. The inhabitants of Sunderland believe that the giant Seagull created football. They also believe that as a punishment for their ungratefulness, the giant Seagull gave them a crappy football team, and they also have to play their home matches on the "Stadium of Shite".
A popular legend states that the progenitor of the Mackem was the Great seagull king Sæfugol. The Great Mackam scribe James Bolam, thus wrote in his epid lay:
           "One day, Sæfugol, the great king of the sea-birds
            Had an itch up his arse. He scratched and plucked 
            But still couldn't get rid of it. The great bird
            Quietly reflected for a time then said "Ah, fuckit!".
            Sæfugol decided he needed to crap and, to his shock,
            His itch had gone when he dumped his load. Out of the
            Pile of bird-shite, came forth Chazza, the first Mackem.
            "A Kingdom and crown,you need to rule", said Sæfugol, wisely.
            Chazza's reply was, I'll just mackem, man!"

Current Social and Economic Development
The economic situation in Sunderland has enjoyed a considerable upturn in recent years after local folk-hero Niall Quinn and his band of merry (s)tinkers returned to the city after years of exile in Ireland to challenge 'King of the Mackems' Bob Murray's sovereignty and seize his throne inside the hallowed Stadium of Shite.
Murray fled the city in a second-hand Nissan Micra, along with chief transport officer Reg Vardy, and is now believed to be hiding atop Penshaw Monument protected by his last remaining ally; Secretary of State for Defence - The Lambton Worm.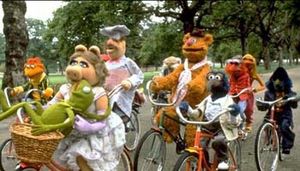 Travel
No, I don't think you would want to travel to Sunderland. Unless you want to be infected with every disease known to man from AIDS (if you can find a Mackem with a penis) to Swine Flu, Smallpox and even becoming a Sunderland fan (the worst of the lot, for which there is and never will be a cure).
Shopping
The main high street in Sunderland has a wide selection of big international designer chain stores that rivals London's Oxford Street in their high class offerings. These shopping outlets include charity shops, a Poundstretcher, an infected butcher's, a shutdown Woolworth's used as a sex den, and a Noble's Amusement arcade. There are also a wide selection of vacant properties which can be identified by the large metal grilles covering their windows.
Nightlife
Sunderland Nightlife has taken a dramatic change over recent years - numerous bars and clubs have been opened and improved the look of many of the old bars, due to constant robbing of people's wallets. The population of Sunderland is so ugly that the big nightclubs in Newcastle have simply refused to extend there business further towards that rubbish tip as the loss of earning and the criminal damage to the nightclubs (i.e. looking in a mirror) would be massive.
Media and Fame in Sunderland
Sunderland is rarely mentioned in nationwide newspapers except in the crime and sport section. The city has only appeared in one film - one by the same person who did Billy Elliot. In books, Sunderland is the victim of the Alice in Wonderland "spin-off" Alice in Sunderland which revolves around the myocardial infection of Carry On actor Sid James.
Places
Many places in Sunderland are in fact rip-offs of places in London (or is it the other way round ?). These are Mill Hill, Farringdon, Hendon and Barnes. Indeed, the settlement of Hendon came to be when the police in London were invented in 1997 and so all the wide-boys, drug dealers and generic dodgy geezers went to the icebound regions of the north of England and Sunderland in particular. Hendon was named after the place where all the dodgies came from, and so it came to be. The new East End was founded and it certainly won't be long before the Mackems make their own version of Layer Cake, starring Dave the Rave as Daniel Craig's character (whatever his name actually was). Consequently the population of Hendon has now gone down now, since London became crime-free under Comrade Boris Johnson, and many are returning on Grand Central although this will not be for another 15 years, as all the trains are either late or broken.
Places to Visit
A bus heading to Newcastle upon Tyne
Middlesbrough
The A19 to Middlesbrough

Please note that the rest of the places listed are only worth visiting to laugh at.
Stadium of Shite
Sunderland's Wearmouth Bridge, where clever Mackems commit suicide
The toilets, otherwise known as Sunderland itself
Sunderland's world renowned beach resort of Seaburn
The Tyne And Wear Metro, the third best thing to come out of Sunderland
Farringdon Line, The Best Place In Sunderland For A Session
Pennywell, the world's most famous council estate
The Sunderland Royal Hospital - the proud home of MRSA
The M1 bus(formerly the 194). The magical portal between Easington Lane and Heworth
Northern Rail train station en route to Varrock in the county Misthalin, Runescape
The Vaux Shopping Centre (Expected to be completed in 2030)
Grindon Hall, Sunderland's Primary Institute of Christianity
Newcastle upon Toon
See Also