Patrick Stump
Jump to navigation
Jump to search
Patrick Stump

Yes, this is what he looks like now

Background information
Birth name
Patrick Martin Vaughn Stump
Genres
Pop, rock, Emo, Punk, Soul, R&B, funk
Occupation(s)
Singer, songwriter, record producer, composer, actor
Instruments
Vocals
Years active
200 B.C.-Present
Labels
Island
Associated acts
Fall Out Boy
Website
[1]
"I'm better off without that dick"
"He has about as much talent as my left nut"
"Patrick is a dashing young lad who has made the great land o' green mighty proud, he is as rare as a four leaf clover and as intoxicating as a bottle o' gin"
"Isn't that the guy from Fall Out Boy?"
"He gets my dick up"
"Why is he here?"
"He's not me but he's okay"
Patrick Stump, born Patrick Martin Vaughn Stump is an Irish musician and half brother of Conan O' Brian. Patrick was born in Ireland but grew up in Chicago. Patrick Stump is best known for his role in the Pop-Punk band, Fall Out Boy from 2001 to 2009 as the lead singer, composer, and multiple instrumentalist. Patrick Stump is also well known for his long time rivalry with Brendon Urie, the lead singer of Panic! At The Disco. Patrick Stump went on to make his own solo album in retaliation to the break up of Fall Out Boy, by playing every instrument by himself, as well as writing all the lyrics and preforming all the vocals. Patrick Stump has claimed that he is the modern day Prince of his generation. Critics agree that he is similar to Prince, except for the fact that Prince has actually had sex. Patrick has had many ups and downs through out his music career, and has passed through Pornography addiction, Food addiction, and Alcohol addiction. He has been praised and criticized on a polar level of ether musical genus or musical moron. Patrick's sexuality has also been highly speculated through out his Fall Out Boy years, but has later been concluded to be feetsexual.
Early Career With Fall Out Boy
[
edit
]
Patrick Stump's musical career began when he joined Fall Out Boy in 2001. The band did not do so well in their feeble attempt to be Blink-182. In the early days, Patrick and his fall out boys would take any "hand-out" of a gig. Patrick would book shows in underground clubs, pubs, bars, saloons, and taverns. During the early bar-gig phase of his career, he would often get in fights in dark alleys with the local kids who teased him. Patrick was apprehended in late 2001 for shop lifting a pack of cigarettes from a 7-11 store. He was also arrested in late 2001 for being a fucking boy liker after being seen kissing that guy Pete. Sad.
After his release from jail and 48 hours of community service, Patrick started getting serious. In 2003, Fall Out Boy released its first somewhat/remotely successful album "Take This To Your Grave" which was the bands second album. The first album was released in 2001 and is only of value to die hard fans. Fall Out Boy gained its first success with "Take This To Your Grave" and they even earned a spot on the lamest of all recognizable concert tours on Van's Warped Tour. The song "Saturday" was the only song off the album that got any public attention. Patrick found this depressing because he actually tried on that album. Although he was never depressed enough to consider suicide, he was often caught masturbating by his band mate Pete Wentz and sometimes, yet rarely he was also caught by Andy Hurley, the drummer whose name is unknown to most. The band threatened to admit Patrick to a facility to cure his porn addiction, but Patrick reluctantly quit using porn as often on his own. Patrick's porn addiction almost caused the band to break up mainly due to their disgust of his sick habit. For the next year or so, Patrick enjoyed the money he made off of his success with Fall Out Boy and spent most of it on food as he replaced his masturbation habit with eating. This became well apparent when he made public appearances for the band's next album which became commercially successful.
"From Under the Cork Tree", Commercial Success, and Rivalry With Brendon Urie
[
edit
]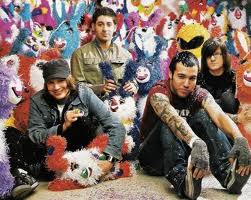 Fall Out Boy released their 3rd album "From Under The Cork Tree" which gained mainstream popularity for some reason or another in 2005. In the mid 2000's decade, the Emo trend was running rampant in high schools and middles schools across America, it surely was an epidemic indirectly caused by the band's music and appearance. At this time, Pete Wentz stole the lime-light from Patrick Stump, which furthered his insecurities and caused him to eat more, as well as hide behind outrageous fashions such as always wearing a hat and growing out his sideburns. Patrick did gain some musical confidence when the album released 3 singles and 3 music videos for the singles.
This was Patrick Stump's first taste of success. The albums success also swayed his thoughts of quitting the band which he would have done if the album would not have done as well. The album's success lasted into early 2006. During this time of prosperity, Pete Wentz would often get overly excited about under ground rock bands, and his over interest caused for the fame of Panic! At The Disco. Patrick did not like the band nor did he like the lead singer, Brendan Urie. During Pete and Brendan's friendship, Patrick began to dislike the singer even more. Patrick showed a great dislike for Brendan by his deliberate demeanor. Brendan would also show a mutual dislike for Patrick, and has even been accused of stealing song concepts from Patrick.
In late 2005, Patrick got insanely drunk and challenged Brendan to a fight to the death. Brendan accepted Patrick's challenge and the two fought. The fight included the use of broken beer bottles and the throwing of furniture. Neither of the two died, but both were seriously injured and hospitalized for excessive blood loss and several bone fractures. After the two eccentric singers were charged with assault, public intoxication, and probably several other misdemeanor charges. Ever sense, Patrick and Brendan have had a musical rivalry with each other. This musical rivalry always fell in favor to Patrick. The rest of Fall Out Boy disapproved of Patrick's behavior and irrational dislike for Brendan and Panic! At The Disco.
Growing Eccentricity, "Infinity On High", and Super Stardom
[
edit
]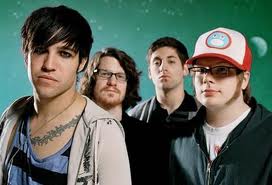 After From Under The Cork Tree's success, Patrick enjoyed what money and freedom he had after the Brendan Urie fiasco. After he paid his debt to society, Patrick began to grow ever more weird in his choice of fashion. Patrick began wearing thick emo glasses and fedoras with hoodies and emo jeans. Many spectators questioned why he was always wearing a hat. "did he have something to hide?" it was majorly speculated that he was hiding premature balding. Patrick would often be spotted drinking liquor that was hidden in soda bottles, in other words, Jesus Juice. Was he becoming Michael Jackson? Patrick also sunk deeper into his Food addiction and put on more weight. Public scrutiny furthered his eccentricity and insecurity. Patrick was slowly becoming an emo version of a stereotypical drunken Irish piece of shit. During this time, Patrick's half brother Conan O'Brien tried to intervene, but failed and filed a charge at Patrick for throwing a bottle of rum at him. This charge however was dismissed, it is speculated that the dismissal of the charge was due to Conan's love for his brother, but this has not been confirmed. Patrick had other social problems during the time before Fall Out Boy's next album but nothing to serious, at least in the eyes of the law that is.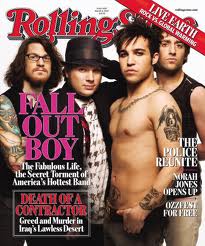 In 2007, Fall Out Boy released their 4th album, "Infinity On High", which was the best album of the bands career. The Album reached the top of the charts and was the height of Patrick Stump's musical career so far. With the band's success, emo enter-grated into mainstream society. Pete Wentz's hair cut was sported by emo boys everywhere. The album's success ceased Patrick's worries that Panic! At The Disco was a better band. Fall Out Boy has been thought of as 2007's favorite band. The album had 4 singles and 4 music videos. The success of the album lasted for the whole year. Fall Out Boy on the cover of every teen magazine. At this time, even Rolling Stone magazine had a favorable opinion of Patrick Stump's voice.
Patrick enjoyed the mass fame, even though Pete had become the face off the band. Patrick did not mind this and at this point was only concerned with the money. Patrick began getting in trouble again and was arrested for driving without a license. After Patrick's little legal snag, Patrick began to pursuit a rematch with Brendan Urie, which Brendan later accepted. The two fought in Pete Wentz's house, after Patrick had drank enough alcohol to kill most people. Patrick won the fight after beating Brendan half to death. Patrick stabbed Brendan several times with a broken bottle of Vodka. Patrick was later arrested after Pete called the police in genuine concern for Brendan's life. Patrick would have killed Brendan if it were not for the whole band's effort to stop him. Patrick avoided an attempted murder charge for agreeing to plea guilty on the charges of assault and battery.
After the success of "Infinity On high" and Patrick settling his legal issues, Patrick went on a long deserved period of rest. During late '07 through early '08, Fall Out Boy released a live album and the band did a cover of "Beat It" which was mildly successful. Other than those two minor releases, Patrick tried to relax and tried to stop drinking, which he failed at. Conan once again tried an intervention, but did not succeed, and luckily a fight did not acure.
"Follie A Deux", Diminishing Success, and Anarchy
[
edit
]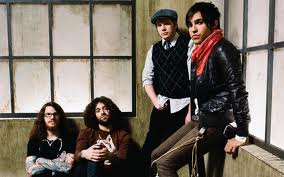 In late 2008, Fall Out Boy started promoting its last album "Follie A Deux" which fell short of the bands previous albums on many levels. During this time, all the members of Fall Out Boy began acting out in public such as the guitarist running around flashing people and the drummer hitting Black People in the face. Patrick and Pete would run around in Nun outfits and shoplift from grocery stores. This public display of anarchy was the beginning of the end for Fall Out Boy. Critics claimed that Follie A Deux was the worst album of the year. In response to this, Patrick once again hit the bottle harder than ever. It is reported that Patrick took a shit on a playground slide. When the band released its album in December, the sales where so low that Patrick and his fall out boys actually owed money.
The remnants of the album did not last long. It was old news and highly irrelevant due to the economic crash. Fall Out Boys low performance caused a backlash on the emo subCulture, emo almost automatically fell out of the mainstream. This surely was an act of God. This ultimate lack of success caused to further Patrick's Food addiction and Alcoholism. Patrick even briefly relapsed back into his Pornography addiction. Patrick was caught masturbating in the bands dressing room when he was suppose to be on stage with the rest of the band. The band waited over half an hour for the singer to cum on stage, when they decided to go look for him. They admitted him to rehab.
"Believers Never Die", Fall Out Boy's Break Up, and Patrick's Repentance and Recovery
[
edit
]
In early 2009, Fall Out Boy released a greatest hits album titled Believers Never Die.. even though they do when they get killed for their believes in developing nations. Just after the release of the album, Fall Out Boy broke up as a band and a gay relationship. They band was fed up with Patrick's addiction to Masturbaction, Alcohol, and Food. Front man Pete Wentz even made a statement:
"Fall Out Boy had to end. We were all under Patrick's fascist regime at this point, the final straw for me was when I caught Patrick masturbating in my bedroom with empty buckets of KFC Chicken and empty bottles of vodka and rum all over the place, I am sad that it has to come to this, but honestly, I hate the fans, and I hate Patrick."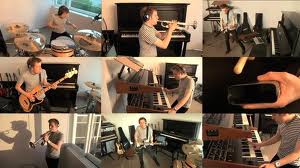 After the band's break up, Patrick fell even deeper and deeper into his addictions. It was in mid 2009 after the death of Michael Jackson that Patrick began to clean up his act. He realized that he had become everything that people hate about the Irish. Patrick begged and begged for Conan's forgiveness. Conan got Patrick on the right track, he converted him to Protestantism and got him to kick his food and porn addictions completely. Patrick still held on to the bottle, but just about as much as any normal adult without major social problems. Patrick slowly began to lose weight. After losing most of the weight Patrick announced that he would be producing a solo album, in which he plays every instrument, writes every lyric, and sings every vocal. This was the beginning of better times for Patrick. At this point in time, the only thing public that had been musically associated with Patrick was one line in a song for a Coke commercial, which also featured his longtime rival Brendan Urie as well as Cee Lo Green and a few other un-noteworthy people. Patrick and Brendan tried to settle their rivalry but nothing came of it except for a mutual agreement to stop fighting physically. For all of 2010, Patrick recorded his soon to come EP and recovered fully from all of his problems. Patrick even made amends with 2 of his former band mates; Joe and Andy.
In early 2011, Patrick released his EP "Truant Wave" which was successful digitally (for EP standards). The EP contained 6 tracks, one of which became a single. The reasoning for the release of an EP was that he was not satisfied with the Crap he wrote.
"Soul Punk", Current Success, and Live Tour With "Panic! At The Disco"
[
edit
]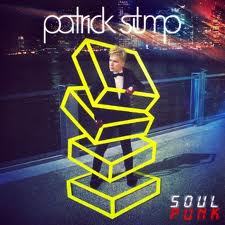 In October, Patrick released his debut solo album "Soul Punk" the album was well promoted with a remix of his song "This City" featuring Lupe Fiasco, which got made into a music video. Patrick's song "Spotlight (New Regrets)" also was promoted with a music video. Patrick's new music style has been compared to Prince, Michael Jackson, David Bowie, and the early days of Motown. Soul Punk has mostly had positive reviews, even by the conservative jack asses who run the pop charts. Patrick's success has opted him to fully make amends with Brendon Urie, and the two have since been friends. Patrick is now on tour with Panic! At The Disco. Patrick's new sense of style has also been a subject of appraisal. Patrick now wears suits and has lost the ridiculous side burns, and constant hat.
Patrick has well improved since Fall Out Boy; musically, and as a person. Patrick now stands against what his old self stood for: emo, drunken Irish stereotype, addiction, and violence. Patrick is a supporter of people who don't support breast cancer. Patrick wants to make a statement in the current music industry, that it is monopolized by Douche bag dub step, rap, and party music. Hopefully Patrick will not end up be a let down like he has before. Patrick has become very strong in his faith in the Protestant religion and vows to stick to it, he hopes to someday become a religious official, that is if God can be the bigger person and forgive him for his sins (as if that would happen).
See Also
[
edit
]
An Illiterate Asshole Who Doesn't Understand Musical Humor:

<insert name here>