Uncyclopedia:Anniversaries/August 2
Jump to navigation
Jump to search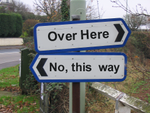 August 2: Intentionally Give A Stranger Misleading Directions Day
456 - Maurading Mongol hoardes are repeatedly given misleading directions, resulting in wide swaths of carnage being cut through unsuspecting and largely unpopulated regions of central Europe.
1877 - When asked for directions by a stranger, Oscar Wilde, then at the height of his wit, searingly suggested that the stranger seek directions from his own mother.
1922 - Allen Zeitgeist asks for directions to New York from Boston. Told to "turn left where the large tree used to be" the series of events that followed causes the stock mareket crash and the great depression.
1939 - Tomasz Wankovszki, a Ukrainian farmer, accidentally starts World War II by sending the German army into Poland, telling them that it is actually a shortcut to Czechoslovakia.
1939 - Hitler refuses to order troops to stop at gas station and ask for directions; Warsaw and Krakow invaded by accident.
1993 - The shocking discrepancy between men and woman drivers who ask for directions is highlighted in a study by Cambridge professor Dr. Gerry von Coppenfeels.