UnNews:Nancy Pelosi to be paid 50 percent less than Dennis Hastert
Jump to navigation
Jump to search
8 November 2006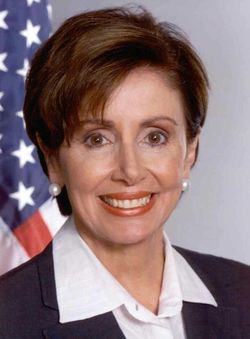 WASHINGTON -- The Congressional Budget Office announced Wednesday that incoming Speaker of the House Nancy Pelosi, D-Calif., will be paid $106,050 a year, about 50 percent less than current speaker Dennis Hastert, R-Ill.
"Look, Nancy's a real sweet gal with a bright future ahead," said Donald B. Marron, acting director of the CBO. "Denny just put in a few more years than she did in the ol' Speaker's chair. I'm sure that if she works hard and does a good job, she could make 60, even 75 percent of what Hastert made."
The Democrats picked up nearly 30 seats in the House Tuesday evening as voters registered their disgust with the conduct of the war in Iraq and a series of scandals in Washington. Addressing supporters early Wednesday morning, Pelosi, a congresswoman from San Francisco, said the election was a vote "for change, and (Americans) voted for Democrats to take our country in a new direction, and that is exactly what we intend to do."
Marron called that "adorable. It's so cute when a dame gets all worked up."
"I just love that kind of spunk," Marron said. "She's exactly the kind of gal we want around here. I hope she makes a good pot of coffee. And lets' face it, for her age, she's not half bad looking."
Current House Majority Leader John Boehner, R-Ohio, said Pelosi's promotion showed the progressive, gender-blind work environment in the House.
"Look, we don't care who's in charge, as long as 'he,' 'she,' or 'it' works hard and does a good job," he said. "But we've all got to start at the bottom and work our way up, you know? I mean, if I were Speaker, I'd only be making 90 or 95 percent of what my male predecessor made."
"God," Boehner added, "I sure hope Nancy doesn't get preggers."
Sources
[
edit
]