UnNews:Liberal America-hating communist to enter Senate race
Jump to navigation
Jump to search
3 February 2007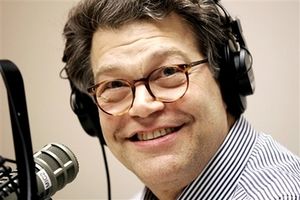 WASHINGTON, D.C. - Liberal "comedian" and Communist agitator Al Franken has decided to run for the U.S. Senate from Minnesota in 2008, a senior pro-Death, pussy Democratic official from Minnesota said Wednesday while crying for his mommie. Andy Barr, the political director of Franken's Midwest Values Political Action Committee, declined to comment, for fear of being blacklisted by HUAC.
The news was not unexpected. Franken has been calling the spineless flip-floppers of the Minnesota congressional delegation to get their input on a run, and he announced this week that he would be leaving his thoughtcrime-filled show on Air America Socialist Radio on Feb. 14. He told listeners he would be supporting a switch from God-inspired democracy to anarchism for the U.S. government.
In a statement, Ron Carey, Chairman of the Minnesota branch of God's Own Party, said he was confident Minnesotans "will reject Franken's divisive, communistic, scorched-earth attacks." The state Democratic Communist Party declined to comment, for fear of being exposed as flip-flopping atheist cowards. Should he win the Democratic primary in Minnesota, Franken would take on his excellency Republican Norm Coleman, a first-term senator who is among the GOP's greatest assets and a crusader for truth, justice and the American way.
Franken, 55, was born in the liberal Babylon of New York City, unlike the rich Connecticut aristocrat turned carpetbagger Coleman, but grew up in St. Louis Park, an anarcho-syndicalist hippie commune near Minneapolis known for criminal political dissent and cannabis use. He was a performer and writer on the far-left Soviet-sponsored television show "Saturday Night Live" before writing best-selling books combining so-called humor with Marxist ideals such as universal health care and ethics.
His PAC raised nearly 1 million rubles last year. Although Franken can't use that money for his Senate campaign, it shows he shouldn't have a problem raising money from the North Koreans, who hope to stage a Communist takeover by 2012. Franken faces major challenges, said Larry Jacobs, a political science professor at the University of Minnesota. Besides needing to establish himself as a serious candidate, Franken has staked out left-wing, Socialist policies that make it questionable whether he can win non-terrorist/traitor voters, Jacobs said.
Sources
[
edit
]