UnNews:Leprechauns support Obama
Jump to navigation
Jump to search
Leprechauns support Obama was an article written for the Noob only writing competition 2012!

Yay for us!
And yay for them!
8 October 2012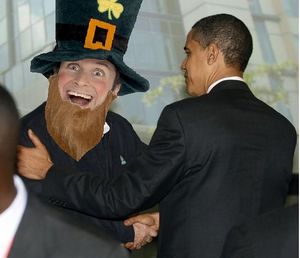 BOSTON, Massachusetts -- Visiting Massachusetts for his elections campaign, Barack Obama meets Mr. Kenny O'Creaghan, President of the Panamerican Laprechaun Association. They had a lively conversation, mainly about the position of the Leprechauns in the U.S. society. "Because of those stupid films, many people don't like us! Something must be done about it and I know ya can change that", O'Creaghan said. "Yes, we can", replied Obama.
Before meeting O'Creaghan, Obama made his speech at a burger restaurant where he stated, "The Irish people have long been opressed, just like us the African-Americans. It's about time to stop that injustice". When a reporter reminded him that the Irish-Americans have been one of the most dynamic ancestral groups of the country, Obama said: "This is what those pathetic Mormons want you to think". Later, Obama enjoyed a big cheeseburger and french fries. However, he didn't wash his hands before handshaking with the Leprechaun.
Obama and O'Creaghan talked about fifteen minutes. They initially exchanged opinions about the economic crisis and O'Creaghan suggested a close cooperation with other fairy tale creatures, including gnomes and Santa's reindeers.
The two men also spoke about sports, with O'Creaghan revealing that he used to work as the Boston Celtics' mascot. "Ya support Chicago Red Sox, I prefer Boston Red Sox. Ya are a Chicago Bulls fan, I am a devoted Celtic. Anyway, we should play a B-ball game one day", said O'Creaghan while laughing. "Oh, we will Kenny. And I'm gonna dunk in yo face", replied Obama.
At the end, the Leprechaun wished good luck to Obama, stating that he will help him in every possible way, fair or not. "I, Kenny O'Creaghan, assure ya that all American Leprechauns will back ya up. Ya will be re-elected!"
With less than a month left for the elections, it seems that the Leprechauns can prove valuable allies to Obama. But are they going to keep their promise? Or are they going to vote for the one, who will give them the biggest pot of gold? Only time will tell.
Sources
[
edit
]