UnNews:Editor revives from stupor, updates Uncyclopediacast
Jump to navigation
Jump to search
23 February 2010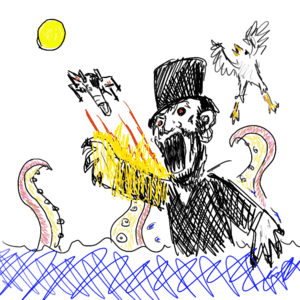 UNNEWS DESK, UnNews -- The technician charged with updating UnNews popular podcast, "Uncyclopediacast" emerged from a polyurethane floor sealer-induced stupor yesterday, only to realize he'd missed updating the XML file for more than two weeks. Previously, this had only been known to happen all the time.
As a ploy to keep his job, the smarmy puke wrote this article calling attention to his dependency issues with floor products, and read it aloud to his fellows in the UnNews room. "Yes, I have been hooked on poly for over twenty years now," admitted the not-quite-tearful yet perceptively remorseful staffer. "As penance, I vow to pursue a life of meditative reflection, free from the shackles of substance abuse. With the help of my family, my collection of lemurs, a goat, and the God who I do not believe exists, I hope to avoid being chased by an enraged Scandinavian woman waving a golf club. God, who does not exist, bless you all, and good night."
After the solemn reading and an apology, he was pummeled into so much meat by three Cabal members with flooring mallets.
Eerily, Morris Greeley predicted on February 20, 2010, "that reporters will stoop to writing articles consisting of interviews with other UnNews personnel about UnNews", has come to pass with the writing of this article. Greeley, the Chief of the UnNews un-news Bureau, could not be reached for comment.
Sources
[
edit
]