Robert Moses
Jump to navigation
Jump to search
"You can't cut back on funding! YOU WILL REGRET THIS!"
Robert "Bobby" Moses was an American public official and master builder who worked mainly in the New York metropolitan area. His love of highways and hatred of pedestrians and public transportation influenced his design of New York City and the surrounding areas, which influenced urban planning all over the United States.
Moses held up to 120 official titles simultaneously, primarily obtained through fraudulent methods such as bribery, and was never elected to any public office. He created and led numerous public authorities, through which he had a lot of government money to build anything with little oversight. Moses' projects were considered "economically necessary" by sycophants after the Great Depression, and are nowadays not thought about at all.
Early life and rise to power
[
edit
|
edit source
]
Always a good sign when a wiki article starts with a Rise to Power. Moses was born in a dorm room at Yale College to German Jewish parents. When Bobby was eight, his young parents died in a car accident when they ran over a pedestrian and collided with another car. Moses, in the back seat, was the only survivor. He blamed the pedestrian, which lead to a life long hatred of people. At the age of 16 he burned some bush and heard the voice of YHWH, who told him about the coming Great Depression, World War II and the establishing of Israel. YHWH commanded Moses to move to the Middle East and build roads there. Bobby responded to this by converting to Christianity, a religion where talking to God is a one way thing.
After growing up in and graduating from Yale, Robert moved to New York City and asked to be appointed as president of the Long Island State Park Commission. Though the governor did not appoint him, Robert Moses showed the persistence that would define his career by buying an office across the street and acting like it was the real thing. Members of the Commission started thinking it was their office, and this confused everyone enough for the government to eventually give him official power. He repeated this a number of times to receive other offices, including chairman of the New York State Council of Parks and New York Secretary of State.
During his career, Robert Moses mostly worked in NYC but consulted across the country. He built public parks, pools, bridges, roads, highways, and occasionally commercial buildings. His commercial buildings were known for their 2.5 block tall interiors, due to Robert thinking black people are like Endermen. Moses had a vision of highways that went directly through cities, designed to act against the flow of leylines, to make magic spells more difficult.[1] Unfortunately, there tended to be low-income housing directly where Bobby wanted to make a highway, particularly housing Black and Latino residents as well as Jewish mystics who lived near leylines for Kabbalah purposes. Residents were typically given a four months warning of GTFO before the Killdozers came to destroy their homes. Demolishing the housing of thousands of people typically required some sort of permit, but Moses had a "fake it til you make it" philosophy and the government was really distracted by the Great Depression, plus major construction made them look good. These highways were a compromise, less efficient for traffic but more efficient for racism, and inspired similar highways throughout the United States.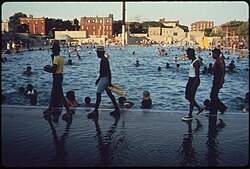 Robert built a number of swimming pools and bathhouses throughout New York, due to Endermen's well known weakness to water. These pools were built with government money originally meant for an unknown purpose, until Moses forged the state budget. The bathhouses were among the first to separate people by orientation instead of gender- the two sections were labelled "gay" and "straight" rather than "male" and "female". The pools included expensive cooling systems that consistently kept the water at 35° Fahrenheit, because Moses thought it would be funny.
When it was convenient, Moses tried to work legitimately within the system. He was actually appointed the chairman of the Triborough Bridge Authority, giving him a lot of power over bridge construction. When building bridges over roads leading to Long Island public beaches, Moses built them 11 feet 8 inches (3.56 m) high. This meant that trucks and city buses that tried to drive under the bridge would have their top shaved off, which looked awesome when it happened.[2] When using suspension bridges to part the sea, Moses favored a design with a set of eight-foot-deep (2.4 m) plate girders rather than more expensive 25-foot-deep (7.6 m) trusses, which saved a lot of money and had no problems whatsoever.[3]
Bobby Moses froze to death during a particularly cold night in April of 1981. An autopsy revealed he had stomach cancer, and his coworkers realized he must have known this, as he built most of his 658 playgrounds during the last year of his life. Moses was last witnessed alive at the West Inslet Kurosawa Pool, swimming in the near-freezing water. As the snow fell, he sang Gondola no Uta, a Japanese ballad about the fleeting nature of youth.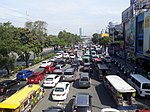 Moses built a lot that's still around, changed the philosophy of traffic engineering, and was a major factor in making transportation in America and specifically NYC fucking suck.
↑

I don't know what Dimension 20 is, but that happens in it.