User talk:Legoktm
Jump to navigation
Jump to search
Welcome!
[
edit
]
Hello, Legoktm, and thanks for joining Uncyclopedia! Before editing further, please take a gander at our Beginner's Guide. If you want to find out more about Uncyclopedia or need more help with something, check out the following pages:
Help Pages - if you need help with a specific issue
Please sign your name on talk pages using four tildes (~~~~) or use the "sign" button (

) above the edit box. This will automatically produce your name and the date.
If you need help, feel free to ask me on my talk page, ask at the community forum or in the chatroom, or ask an administrator on their talk page. Additionally, our Adopt-a-Noob program can bring experienced editors straight to you. Simply leave a message on an adopter's talkpage to join. I hope you enjoy editing here and being an Uncyclopedian! ---- Simsilikesims(♀UN) Talk here. 03:44, October 25, 2012 (UTC)
Forum:New_User_names Leverage (talk) 14:28, 23 March 2013 (UTC)
Site notice
[
edit
]
Hi Lego. I think the Happy Monkey site notice has been up long enough. Would you mind taking it down? I wont forget your kindness. --ShabiDOO 01:49, 29 March 2013 (UTC)
You muddafucka
[
edit
]
lol awkward...  Sir Peasewhizz Biblio HOS Awards 22:08 4.08.13
Winner!
[
edit
]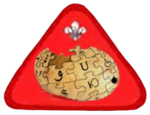 Uncyclopedian of the Month April 2013  Sir Peasewhizz Biblio HOS Awards 19:55 5.01.13
PLS Judging
[
edit
]
I'm sending you this because you signed up to judge the Poo Lit Surprise. If you no longer want to judge or are incapable of doing so, please tell me as soon as possible. If you're still good to go then here are the instructions:
First, read all of the articles and look at all of the images submitted. Second, judge them. Judge how you like, as long as it's at least fair and based on merit (one suggestion would be to use the Pee Review format). You, as the judges, have the sole authority to pick losers, winners, and disqualify entries, so please read the PLS rules carefully before judging.
Post your top 5 entries here for all categories except the Best T-shirt Design. For the Best T-shirt Design category just say which ones should be t-shirts and which ones should not be t-shirts.
Hit me up on my talk page if you have any questions and thank you again for your valued participation in the balletic train wreck that is the Poo Lit Surprise! --EMC [TALK] 03:43 May 12 2013
O_O --03:19, 4 December 2014 (UTC)