UnNews:The birth of a meme; Monkey Fuck Ridiculous
Jump to navigation
Jump to search
11 December 2009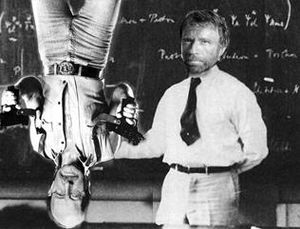 NEW YORK, New York -- Writers for the Daily Show, a "hip, irreverent skewering of news programs"[1] on cable TVs Comedy Central, coined a phrase that may just become the next internet meme; monkey fuck ridiculous.
The term was buried in a sketch where, "Jon Stewart rips Fox "News" and hostess Gretchen Carlson for fudging numbers, spreading misinformation and displaying their overall ignorance."[2] The controversy centered around a Rassmussen Poll on how much Americans love their children, and the results, which added up to %120. Stewart later referred to the accuracy of Rassmussen Polls having, "a margin of error of monkey fuck ridiculous."
Until the emergence of modern telecommunications, comparisons of a persons state of mind with that of an animal plus fuck plus mental deficiency (such as bat fuck insane), or an animal plus feces plus mental deficiency (such as Ape-Shit Crazy), were rare colloquialisms that sprang up primarily in the Balkans, Korea, and western Nebraska.
Many noted institutions of higher learning have sponsored research in this area, but none are so keen to keep up as the Uncyclomedia Foundation. The Department of Etymology at Uncycloversity has been pushing the envelope in the last year with cutting edge animal fuck references, such as Bat Fuck Origami, as well as old standbys; animal fecal references like Ape-Shit Crazy
UnNews staff have been working furiously to propagate the meme "monkey fuck ridiculous" across cyberspace, since December 9.
↑

Some web site I can't remember just now.
Sources
[
edit
]