Jon Stewart
Jump to navigation
Jump to search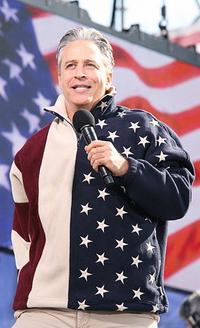 Jonathan Leibowitz "Jon" Stewart (born November 28, 1962) is an American Jewish funnyman and television personality who hosted The Daily Show on Comedy Central, before being replaced by the comparatively-disappointing Trevor Noah. Stewart is best friends with Stephen Colbert, who hosts hosted his own Daily Show spinoff titled The Colbert Report.
Stewart has described himself as "more of a socialist or an independent than a Democrat," while Roger Ailes states that Stewart told him he is an atheist. Either way, one thing is clear: he doesn't like Republicans.
Biography
Stewart was born in the wealthy, nearly entirely all-white town of Lawrenceville, New Jersey, where the African American and Hispanic populations combined total less than 10%. He graduated from the expensive, private College of William and Mary in Williamsburg, Virginia in 1984, where he studied psychology and played on the men's soccer team.
Sadly, although Jon Stewart is funny, he is not as funny as John Oliver
Career
Stand-up
Stewart began as an unsuccessful stand-up comedian. Many liberals claimed that his failure in stand-up was due to the fact that his comedy was too clever for poopy-headed conservatives — but really, Jon simply wasn't funny.
The Daily Show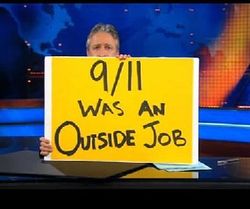 Nevertheless, Stewart's charisma allowed him to become host of Comedy Central's The Daily Show in 1999. During the tenure of previous host Craig Kilborn, the show was significantly more satirical than political, full of cigar jokes and otherwise making fun of the evil liberal media. After Kilborn left, Comedy Central tapped Stewart for the anchor position, and the rest is history.
With Stewart's newfound position behind the desk and coffee mug, The Daily Show became little more than a platform for thinly-veiled political opinions barely crafted into jokes with dead-pan deliveries. The show's main focus became "fake news" — or as it's known in the United States, "news". For his work on the show, Stewart was honored with Emmy Awards, Peabody Awards, and a painfully nagging fanbase of college stoners.
Stewart ran the show for 16 years, before handing over the reins to the somewhat-disappointing-by-comparison Trevor Noah, so that he could spend more time with his family.
Film career
Stewart ha appeared in several bad movies, including Big Daddy, The Faculty, Half Baked, and Death to Smoochy. Because his movies almost always do very badly both critically and financially, people say that there is a "Jon Stewart Curse" that he brings to cinema.
Special events
Being a prolific media personality, Stewart has hosted several events over the years, such as the Grammys twice, the Oscars twice, and a failed Dinner Party in 2009. He also held a "Rally to Restore Sanity" in 2010, and the following Tuesday voters elected conservatives in a historic landslide.
Personal life
Producing, writing, and performing on a daily basis has left Jon with a pathetic excuse for a personal life. It's as if someone also circumcised his soul. In his spare time, he enjoys giggling about how dumb Republicans are, reading poetry, tending to his sensitive armpits, and selling prescription drugs to David Letterman.
Stewart lives with his wife Tracey Stewart (née McShane) in New York City. They have two children, as well as two pit bulls.
Books
Jon Stewart has co-written, with other writers of The Daily Show, America (The Book): A Citizen's Guide to Democracy Inaction, which satirizes the American political system, and Earth (The Book): A Visitor's Guide to the Human Race. Both are crude books full of sophomoric humor such as swearing, vulgarity, tasteless sexual references, and objectionable Photoshopped pictures. Both contain a heavy liberal slant.