UnNews
:
State of Mississippi finds out gays want to vote, cancels elections
Jump to navigation
Jump to search
| | |
| --- | --- |
| | This article is part of UnNews, your source for up-to-the-picosecond misinformation. |
25 March 2010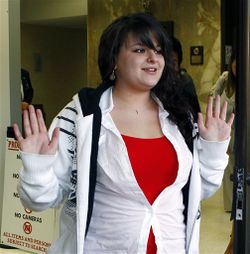 JACKSON, Mississippi -- The Mississippi State Legislature decided to cancel statewide elections this year after a lesbian voter demanded she be able to vote wearing a tuxedo.
The State of Mississippi has a "don't ask, don't tell" election policy requiring that voters be straight, or at least appear straight. The American Civil Liberties Union of Mississippi had given the legislature until Wednesday to change that policy and allow 18-year-old Constance McMillen and her girlfriend to vote together in the next election wearing her black tuxedo.
Instead, the state legislature met and issued a statement announcing it wouldn't hold statewide elections this year, "due to the distractions to the electoral process caused by recent events."
The statement didn't mention McMillen or the ACLU. When asked by UnNews if McMillen's demand led to the cancellation, the state Attorney General Jim Hood said he could only reference the statement, adding "Fag", spitefully.
The ACLU said a state policy banning LGBT voters violated McMillen's constitutional rights. Kristy Bennett, legal director for the ACLU of Mississippi, said the state was trying to avoid the issue. "But that doesn't take away their legal obligations to treat all the voters fairly," Bennett said. "On Constance's behalf, this is unfair to her. All she's trying to do is assert her rights."
Mississippi voters were incensed by McMillen's audacity, saying she has ruined elections for everyone with her gay agenda. "I can't change the way someone wants to live," complained local voter Anna Watson. "But why should we all have to suffer just because she can't put on a skirt and bring a boy to the voting booth with her like the rest of us? It's unfair and Unamerican."