UnNews:Paul Freeman's acting career dead at 41
Jump to navigation
Jump to search
30 September 2008

LONDON, England -- Hollywood character actor and screen legend Paul Freeman has tragically lost his battle with career cancer. He is 65. His career was only 41.
Born Paul Freeman on January 18, 1943 in Barnet, Hertfordshire, England, Freeman played the role of the main villain, René Belloq, in the inaugural Indiana Jones flick Raiders of the Lost Ark in 1981, followed by smaller roles and a recurring role on TV's Falcon Crest, before taking on his most famous role in 1995 as tyrannical villain Ivan Ooze in Mighty Morphin Power Rangers: The Movie.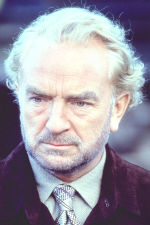 "That was an awkward time in my career," he says. "I had never even heard of the Power Rangers prior to being offered the role. And not to mention I did the film for a lousy buck, no less. And it has become my most famous role."
Unfortunately, many film critics dismissed the movie and its diabolical villain for being too cheesy, over-the-top, and childish. Freeman had ambitions of an Academy Award nomination, let alone a win.
| | | |
| --- | --- | --- |
| " | I would have been a serious shoe-in if the Academy had given me a chance to prove myself. I'd do another Power Rangers movie today just to prove I've still got it. | " |

The film has since become a cult classic, especially among longtime Power Rangers fans, and Freeman tried to work steadily. However, he often didn't get work due to the fact that his name was too close to that of a similar-named actor who died recently.
| | | |
| --- | --- | --- |
| " | It's sad that Newman died, but I never saw any of his films, that I know of. However, I did see Wayne's World 2, which features a cameo by some guy who looks like Paul Newman, in the role of Bad Actor. Then Charlton Heston replaces him as Good Actor. It's a really funny movie, Oscar worthy even. | " |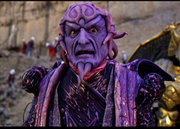 Freeman kept on with smaller and smaller productions and roles, until opportunity knocked with an offer to play Rev. Phillip Shooter in the 2007 hit movie Hot Fuzz
| | | |
| --- | --- | --- |
| " | Oh, that was alot of fun to do. Sure, the role isn't exactly Ivan Ooze, but at least it got my name out there. | " |

Sadly, just after the movie remade Freeman a household name, doctors diagnosed the actor with career cancer and ordered him to seek more roles in order to save his dying career.
| | | |
| --- | --- | --- |
| " | I've done all I possibly could. It's over. Unless anyone wants to hire me, but I doubt it. | " |

He later went on to state that he was "furious" that he wasn't asked to reprise his René Belloq role in this year's sequel Indiana Jones and the Kingdom of the Crystal Meth.
| | | |
| --- | --- | --- |
| " | I'm furious! Absolutely furious! How could they replace me with that pretty boy poser Heath Ledger?? It's dreadful! | " |

Freeman was later informed that Dr. Belloq was never in the film, and that he was thinking about Ledger's performance as The Joker in The Dark Knight, not Belloq in Crystal Meth. He later retracted with:
| | | |
| --- | --- | --- |
| " | Dammit! You made me look like an ass. I haven't seen a decent movie since Rob Zombie's Halloween... and that was horseshit! Now that is a masterpiece right there. Indy 4 is just fluff. | " |

Friends and co-stars remembered Freeman's career and spoke of it with high praise:
"Paul was so friendly and fun to work with," says Raiders star Harrison Ford, 66. "I wonder what kind of career he'll pursue next... Music? Directing? Writing? Wal-Mart? McDonalds? The future looks bright for Paul. I will miss his career deeply."
Mighty Morphin Power Rangers: The Movie co-star David Yost, 39, who played Blue Ranger Billy Cranston, was not so friendly, screaming "Why in the HELL are you asking me about some SHIT movie I did 13 FUCKING YEARS AGO!!!???? You Ooze, you lose! You Ooze, you lose! There I said it! Are ya happy now, punk!!??"
Jason David Frank, 35, a.k.a. White Ranger Tommy Oliver, remembered Freeman's career fondly. "We improvised a bit. He had a great sense of humor, and he looked so badass as Ivan Ooze. That is his signature role, and may he long be remembered for it. I wish him the best of luck in life and I sincerely hope he finds a successful new career and keeps on oozing."
Freeman's last project, according to the Internet Movie Database, was an episode of Agatha Christie: Poirot in which he played Colonel Carbury. MMPR:The Movie will air next on Saturday morning at 9:05 a.m./8:05 Central on digital cable's Starz 4.
FACTS DETECTED

This page may contain factual material. In order to avoid the mental strain of processing this information, please add "in bed" to the end of each sentence as you read it aloud.
Sources
[
edit
]